A
u
s
t
r
a
l
i
a
n
N
a
t
i
o
n
a
l
M
a
r
i
t
i
m
e
M
u
s
e
u
m
Acknowledgement of Country
The Museum acknowledges the Gadigal people of the Eora nation as the Traditional Custodians of the bamal (earth) and badu (waters) on which the museum is located and all Aboriginal and Torres Strait Islander peoples throughout Australia.
We honour their continuing culture and connection to land and sea. We pay our respects to their Elders past and present, we extend that respect and recognition to all First Nations peoples.
(bamal and badu are words from the Eora language of the Sydney region and are supplied courtesy of the Metropolitan Local Aboriginal Land Council)
The Muesum and STORYBOX
The Australian National Maritime Museum is proud to be working with STORYBOX to create a series of stories that highlight different aspects of our relationships to the oceans and waterways. 
STORYBOX is a bespoke digital cube created by Esem Projects, designed to inspire, inform and connect communities in shared spaces. Each program is unique, reflecting the creativity and connections that surround it. Learn more at storybox.co.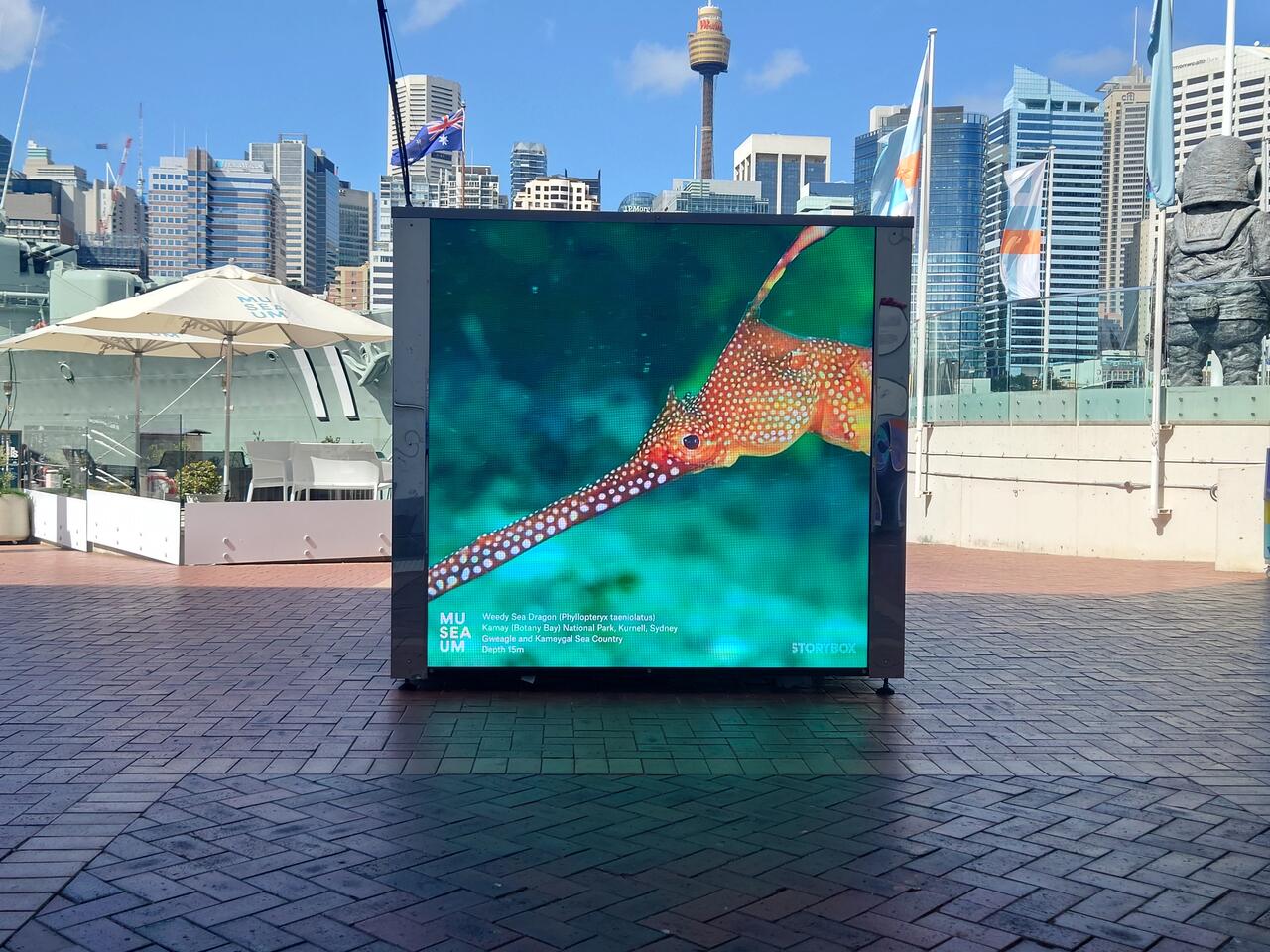 Underwater Sydney
Underwater Sydney is the museum's first project with STORYBOX. It aims to provide a unique perspectives on what lies beneath our oceans, and the role we all play in sustaining healthy underwater lives.
Featuring stunning underwater videography of Sydney's waterways by Mike Jones, Underwater Sydney enables audiences to engage with and experience the beauty and variety of marine flora and fauna. The 28-minute video of Sydney's marine environment was commissioned by the Museum for presentation on a digital STORYBOX.
Produced by ESEM Projects on STORYBOX.
Project Lead: Dr. Sarah Barns
Creative Director: Michael Killalea
Technical Direction: Leif Wilson
Videography: Mike Jones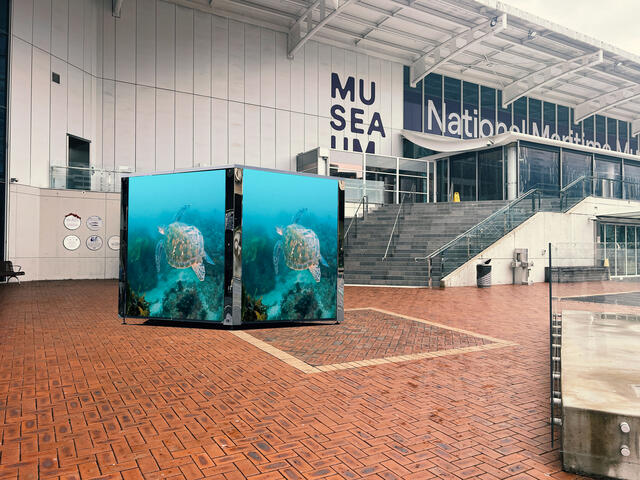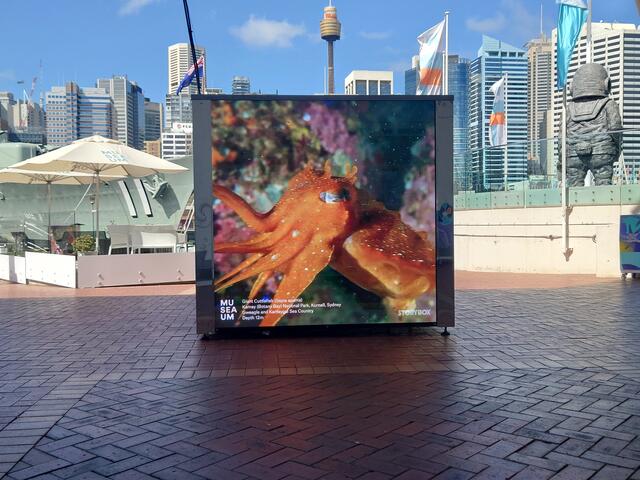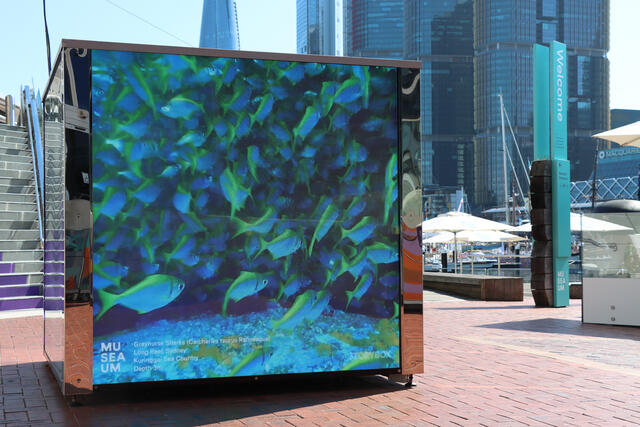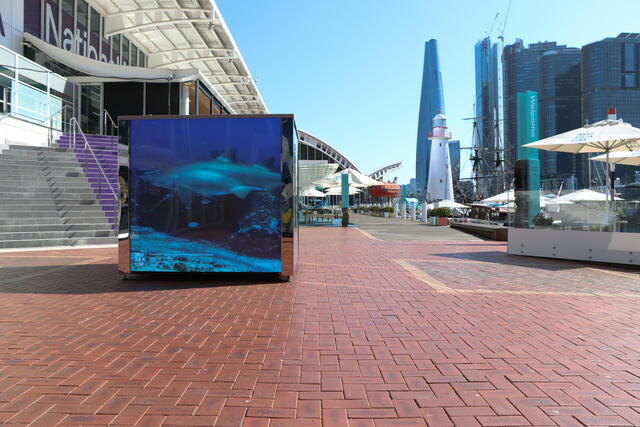 Underwater photographer - Mike Jones
Mike Jones first picked up an underwater camera in his teens and has been an active photographer ever since. Having grown up in the waters around Sydney and the NSW Central Coast, these headlands, harbours and off-shore reefs are his favourite places to dive. Mike is passionate about local marine ecosystems, keeps meticulous records of every dive and marine species sighting, and is an active contributor to citizen science projects ranging from seahorses to grey nurse sharks. In 2023 he was invited to join Cousteau Divers and is part of the Cousteau 'Remora' project measuring coastal ocean temperatures with purpose-built robotic devices. His underwater images are included in collections at the Australian Museum, displays at the National Maritime Museum, and featured by Great Southern Reef Project.
 
Celebrating our harbour, waterways and oceans
The museum is committed to supporting the heath of Sydney's waterways through exhibitions, programs and projects. Our location on Sydney's waterfront means we can put the public right in the story. 
Inside the museum, the Sydney Harbour Gallery is a space developed to show all the ways that science, community, and industry are working together under, above and along the edges of Sydney Harbour to make a safe and sustainable future for everyone. It includes a digital interactive with 365 days of vessel traffic in the harbour, artificial reefs and structures built to increase biodiversity (life) in the harbour, and the aerial drone that completed the world's first drone-based rescue in 2018. The Sydney Harbour Gallery was developed in collaboration with the Port Authority of NSW, Reef Design Lab, The Little Ripper Group, and the Sydney Institute of Marine Science. 
Suspended above the museum foyer, the stunning Artwork Au Karam Ira Lamar Lu - Ghost Nets of the Ocean is an installation created by Torres Strait Islander and non-Indigenous collaborating artists from Erub Arts on Erub (Darnley Island), Torres Strait, Australia. Made from abandoned fishing nets and recycled plastics, ghost nets are colourful woven sculptures featuring an outrigger canoe, fish, turtles, squid and jellyfish. These works show peoples connections to the sea and inspire awareness of ocean pollution, recycling and promote conservation of the marine environment.
The Museum is also host to The Seabin Foundation's Ocean Health Lab —a world first solar-powered converted shipping container dedicated to storing, triaging, and analysing marine litter captured from 30+ Seabins operating 24/7 in Sydney Harbour. Debris is collected by environmental technicians and brought to the lab where it is studied by research scientists. The lab specialises in microplastics, which are tiny pieces of plastic less than 5mm in size. Each Seabin catches 1000+ microplastics every 24hrs. The Ocean Health Lab team offer educational tours, encouraging solution-oriented conversations so that we can work together for cleaner oceans.  
Our Learning teams run regular programs in science and sustainability and we currently offer two onsite programs for Primary School Students, Solutions to Ocean Pollution and Underwater Microbeasts. The first is a collaboration with the Seabin Project, with students analysing a Seabin 'catch' to understand the sources of marine pollution, while underwater microbeasts take advantage of the museum's waterfront precinct to explore the beauty, diversity and importance of plankton for ocean health. Students catch their own plankton samples from the wharf and dive into a microscopic world buzzing with activity. Both programs are supported by virtual excursions and offsite events during special celebrations like National Science Week to ensure that all students across the country have the opportunity to learn more about our oceans.
Thanks to effective management and restoration efforts the health of Sydney's waterways is improving. Government, industry, universities, and communities are working together to control pollution and ensure sustainable coastal development, restore depleted habitats, and support biodiversity.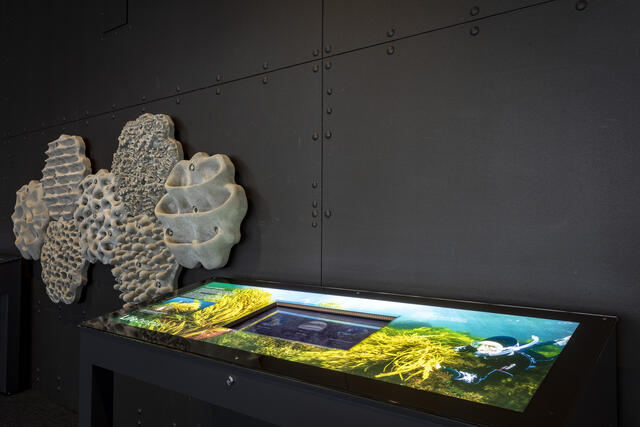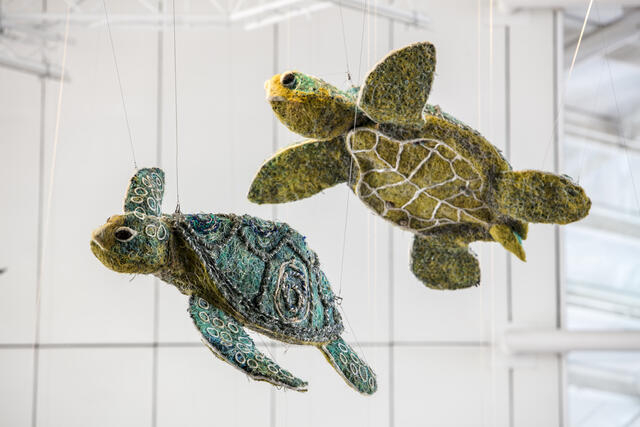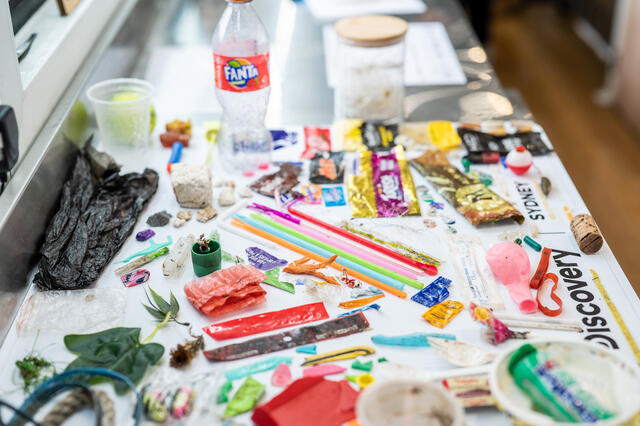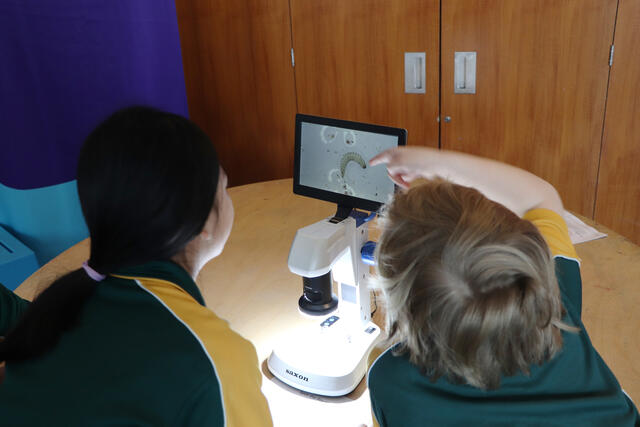 More stories coming soon
 Currently on display at Australian National Maritime Museum until June 2024.