Stories of Deep Time Australia
The Australian National Maritime Museum proudly recognises the Sydney Gadigal community's deep connection to its land, sands, and waters and of their custodianship of Eora – the Greater Sydney region. Deep Time also comprises diverse knowledge of the lands, seas and skies throughout Australia and the Torres Strait. The museum is committed to acknowledging the ongoing responsibilities of all traditional owners of lands and sea country throughout Australia.
Aboriginal and Torres Strait Island audiences are advised that this website potentially includes photos, recordings, names, and written material of peoples who have may have passed. 
Introduction
Welcome to Deep Time, the digital experience accompanying Shaped by the Sea, an exhibition that invites us to a fuller understanding of this ancient continent. 
Framed through land, water and sky, Deep Time extends the exhibition's insights with storytelling, artistic commissions, interviews and poetry, sharing stories of how Australia has been shaped by the sea. 
Within the heart of the exhibition sits Dhaŋaŋ Dhukarr by The Mulka Project. This installation represents a philosophical recentering the museum's permanent exhibition space. With more than 40 Aboriginal and Torres Strait language regions represented throughout Shaped by the Sea, the exhibition offers a glimpse of remarkable knowledge of country preserved over millennia. Pre-existing protocols, networks, and relationships between First Nations Australian communities has guided the consultation, selection, and placement of an exceptional range of objects, materials, and knowledge.
Aboriginal knowledge, traditional knowledge, ancient knowledge, can work with science, but science has to listen to us. Not just hear. Listen, be with us and learn from that.
—Dean Kelly, Yuin people, South Coast, New South Wales, 2020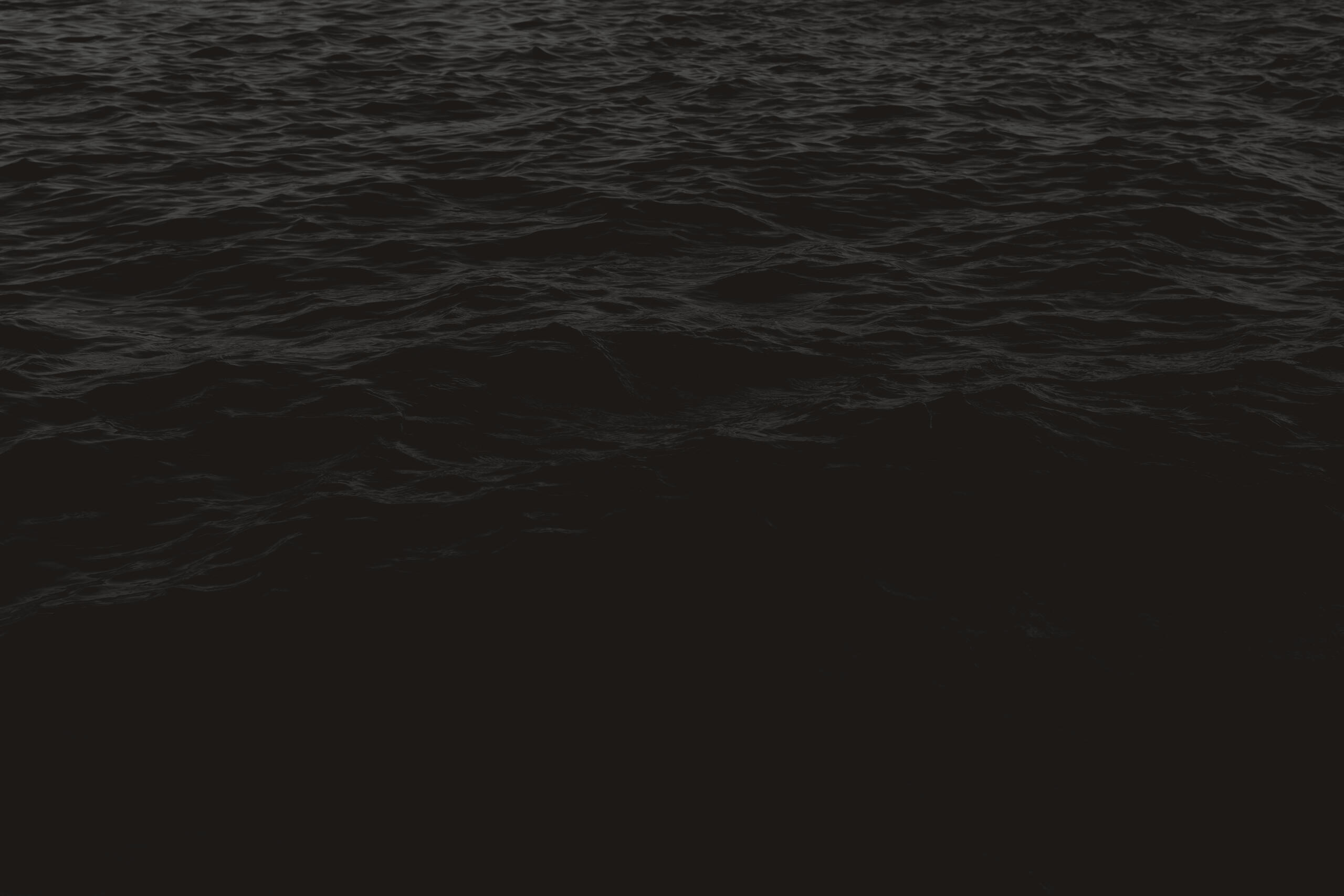 Perspectives On Deep Time
Shaped by the Sea juxtaposes different understandings of deep time expressed by First Nations knowledge holders, historians, scientists, contemporary writers and artists. 
First Nations' knowledges of time are tens of thousands of years old, like eddies in a stream where the past, present and future flow together and continually cross over. This conception of time stands in contrast to Western traditions, where time is understood to be a river that flows from the past into the present and leads into the future. It has only one direction and is unstoppable.
At the heart of the exhibition is Dhaŋaŋ Dhukarr by The Mulka Project, a four-channel video cycle with no beginning, middle, or end. The title Dhaŋaŋ Dhukarr comes from the Yolŋu Dhuwaya language and means many pathways or ways to go. At the centre of the work stands a larrakitj, a hollow log painted in gapan, white ceremonial clay. Surrounding the larrakitj are three curved screens creating an immersive walkthrough. Dhaŋaŋ Dhukarr depicts elemental forms - the land, sea, and sky of the Yolŋu world expressed through the song lines of the various Yirritja and Dhuwa clans.
Dhaŋaŋ Dhukarr
(Many Pathways)
We all have our pathway. The rivers to the sea, the stars across the night sky, the sun as it sets, the fog as it rises from the water to the sky, and the cycle of the seasons. These many courses intersect connecting everything and everyone in the Yolŋu world.

—Ishmael Marika, The Mulka Project Creative Director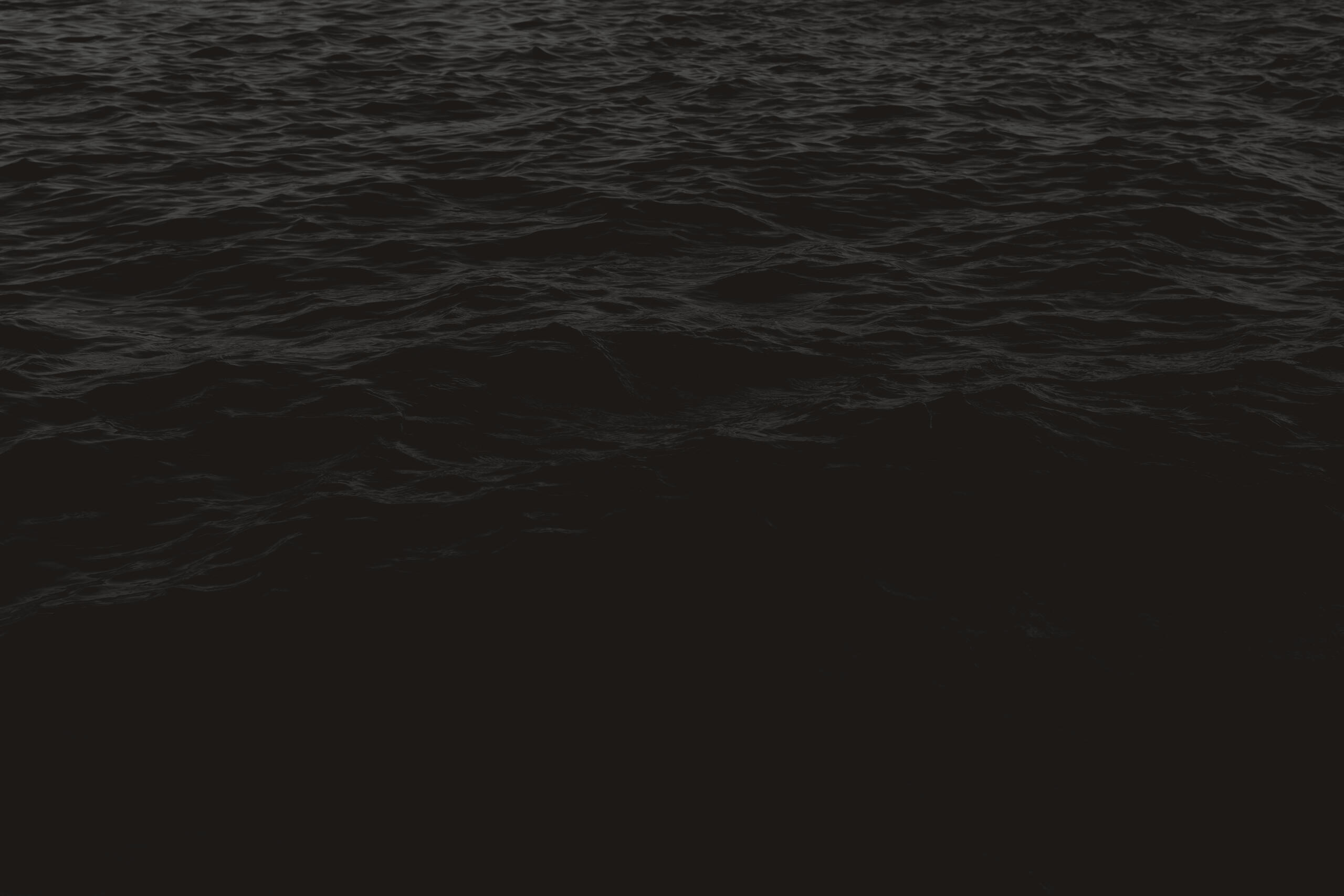 The Australian National Maritime Museum pays deep respect to The Mulka Project founder Mr Wanambi who sadly passed away during the making of Dhaŋaŋ Dhukarr and would like to acknowledge their generosity in continuing the development of this project.
So this work is about the legacy of Mr Wanambi, he was our cultural advisor, passed away recently, he was a powerful man, artist, a father and a grandfather. It was all his idea, and I was there just to help him out.
—Ishmael Marika, The Mulka Project Creative Director
Dhaŋaŋ Dhukarr was created by The Mulka Project working with traditional medium contemporary senior artists and Yolŋu new media digital artists. The Mulka Project's mission is to sustain and protect Yolŋu cultural knowledge in Northeast Arnhem Land under the leadership of community elders.
Making Dhaŋaŋ Dhukarr
Go behind the scenes with The Mulka Project as they work to install their immersive installation, Dhaŋaŋ Dhukarr. Learn how they work with traditional-medium, contemporary senior artists and Yolŋu new media digital artists to depict the elemental forms of water, land, and sky.
With over 2 million square kilometres of submerged lands around the Australian mainland, untold stories of First Nations' deep past are submerged beneath the seas. Multiple climatic events have shaped ancient First Nations' migration paths. Water has shaped the land, plants and animals and sustained ways of life, belief, and culture in the deep history of First Nations Australia and continues to do so in the present and into the future.
And in that water lies our sacred Law. Not just near the foreshore. We sing from the shore to where the clouds rise on the horizon. ... [My father] told us that whatever lies in this water, whatever the water brings or carries, it is just like whatever happens on the land...This kind of story we were told from the beginning.
—Laŋani Marika, 'Declaration', Saltwater. Paintings of Sea Country. The Recognition of Indigenous Sea Rights, 1999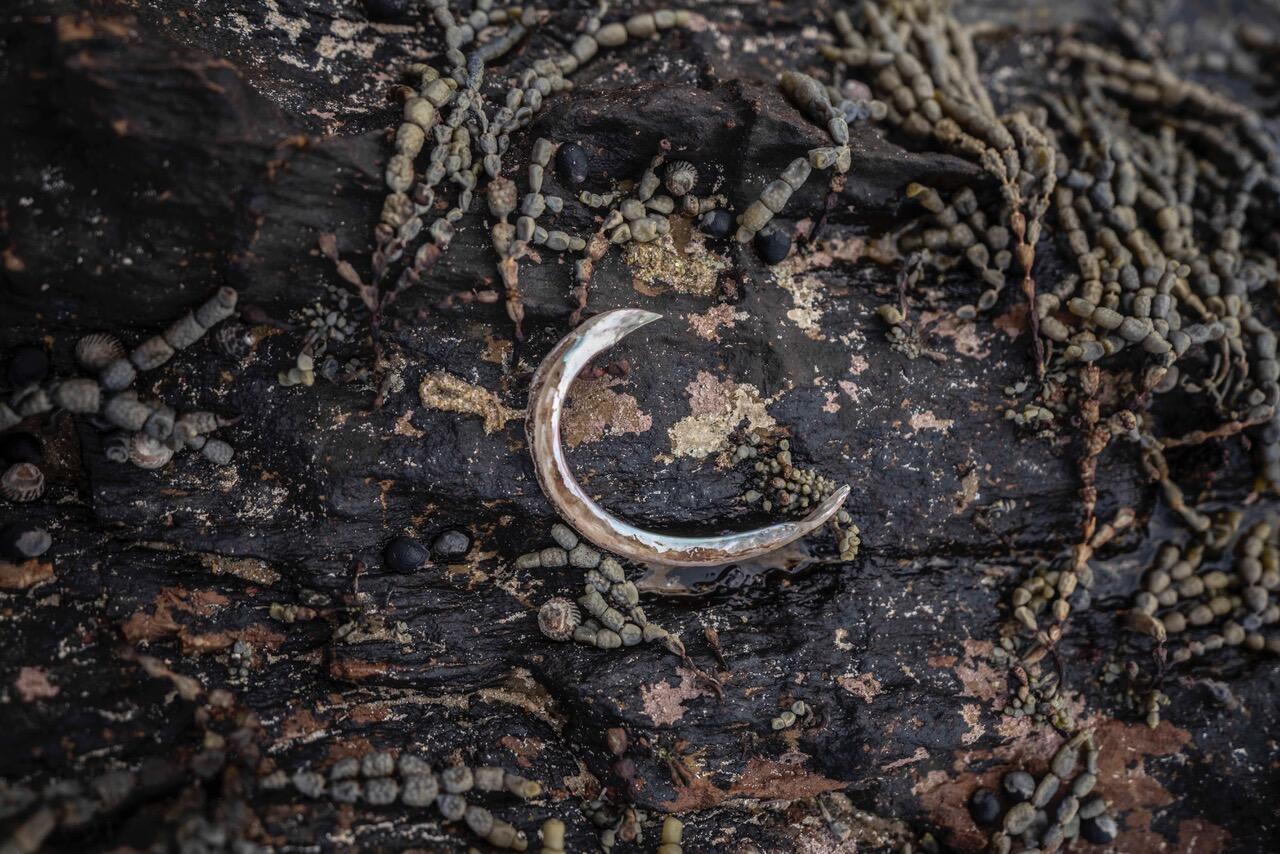 Sea Country Connections
Many methods have been used around Australia to harvest marine life, including fishing lines and hooks, fish and eel traps, nets and spears. As part of her own cultural practice, Yuin artist Sharon Mason shapes fishhooks from shells that are washed up on her local beach.
My artwork connects me to my family and culture. My family is at the core of everything I do. Making these shell fishhooks with my grandchildren and passing on the knowledge of my ancestors to new generations shapes everything I do.
—Sharon Mason, Yuin artist, Narooma, NSW
Meet Sharon Mason and her family down by the beach on Yuin Country as they gather and shape shells. Hear how this special place connects Sharon to the guidance of her ancestors.
cup a hand

skin and bone

this water well

a beating heart

of molecules life

one two three

thousand years

twice daily rises

to gently fall again

flow stories asking

who are we

within this world

let water run

circle settle be

sun of arctic water

moving slowly south

sleeping ebbing rising

upwelling loops of life

seconds centimetres

patience slowly spirit

your beauty and humility

shape shift onward

through air and bodies

entwined with other waters

in plants in soil in country

from pregnant clouds

rain on my roof

to birth my love
How Water Works
Tony Birch, commissioned by Red Room Poetry
Tony Birch
How are you shaped by sea?
'How Water Works' is a poem created to convey a sense of the enduring power of water and my desire to celebrate and defer to its tenacity. I wanted to convey a sense of the bodily, tactile properties of water and how I emotionally respond when I am in physical and metaphysical contact with it.

The poem is also a meditation on the rhythmic qualities of water – water as a heartbeat of Country under siege from vandals. And I wanted to consider the vast journeys of water; across skies and oceans, epic journeys that bring water back to me, to my home, on my roof, in my ears and on my tongue.
—Tony Birch
Tony Birch is a Fitzroy Blak. He is a founding member of the Melbourne School of Discontent and writer. He is the author of three novels: The White Girl, Ghost River, which won the Victorian Premier's Literary Award for Indigenous Writing and Blood, which was shortlisted for the Miles Franklin Award. He was awarded the Patrick White Literary Award in 2017. In 2021 he published Whisper Songs, a poetry collection, and Dark As Last Night, book of short stories, which was awarded the Christina Stead Prize for fiction in 2022.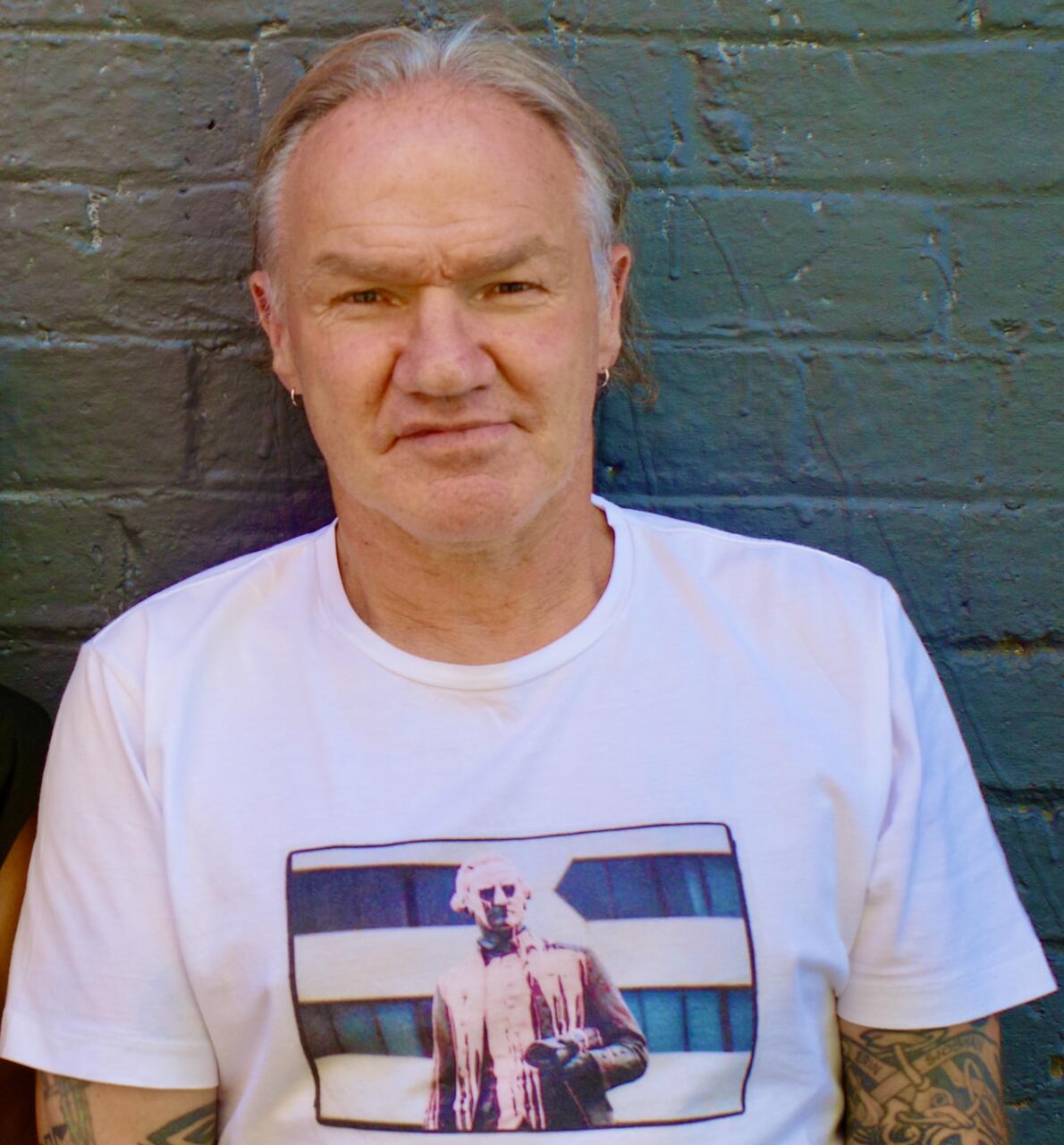 There's always a deeper cultural reason why things are omitted or why they are put in. The water stories are completely different to fire stories. Saltwater is different to freshwater. These waters designate peoples' affiliations and the country they have responsibility to. First Nations artists are very explicit. When they come to depicting things from regions, if it's not there, they won't put something in that doesn't belong there. That's what makes it such a perfect representation of how knowledge is embedded in the landscape.
—Matt Poll, Australian South Sea Islander/Torres Strait, Manager, Indigenous Programs, Australian National Maritime Museum.
Perspectives on mapping our waterways
Wearing Country
A possum skin cloak is traditionally worn from birth through to death. It is a personal, biographical map that connects the wearer to Country. This possum skin cloak created by Treahna Hamm of the Yorta Yorta people represents her intimate knowledge of the landscape, particularly the creation of Moorundie—the Murray River. The ochre and yellow paint reflects the red river gums of the Barmah Forest and shows the places where ochre is naturally found. The making of possum skin cloaks has been revived in the last decade. This continued cultural practice is just one example of how detailed knowledge of the landscape is inscribed and passed on. 
A Strange Land 
Early European maps of the Pacific and Australia were limited by the viewpoint of the people making them. Crossing the continent gives explorers an extremely limited view of the land that they're passing through. They're only glimpses of the ocean coastline of the continent.
—Dr Claire Brennan, Historian
The first European maps of Australia's coast and waterways were incomplete and wildly inaccurate. As navigators from Europe encountered the continent, they spent more time at sea than on land, and this is evidenced in their drawings. They were maps made by strangers from afar.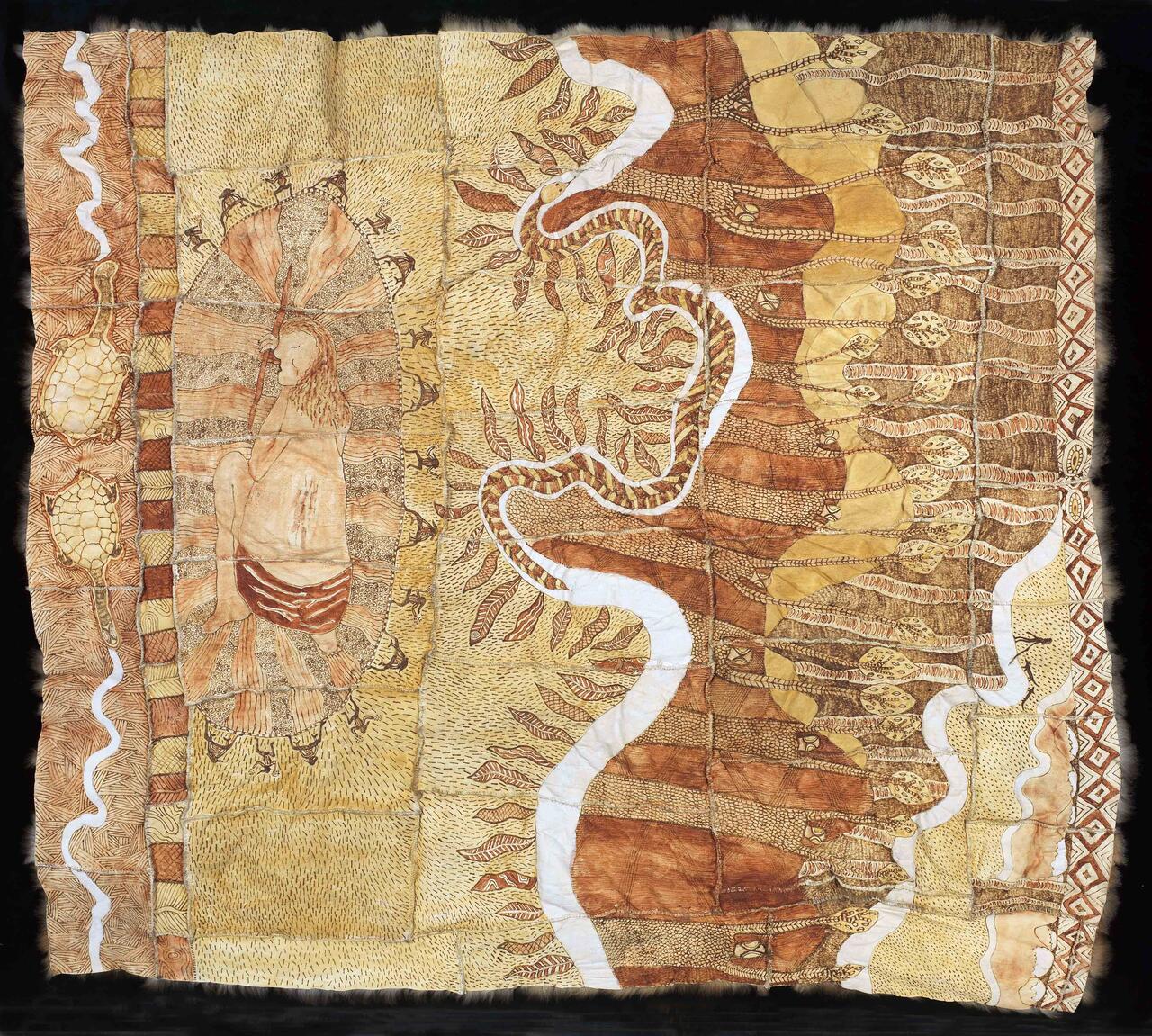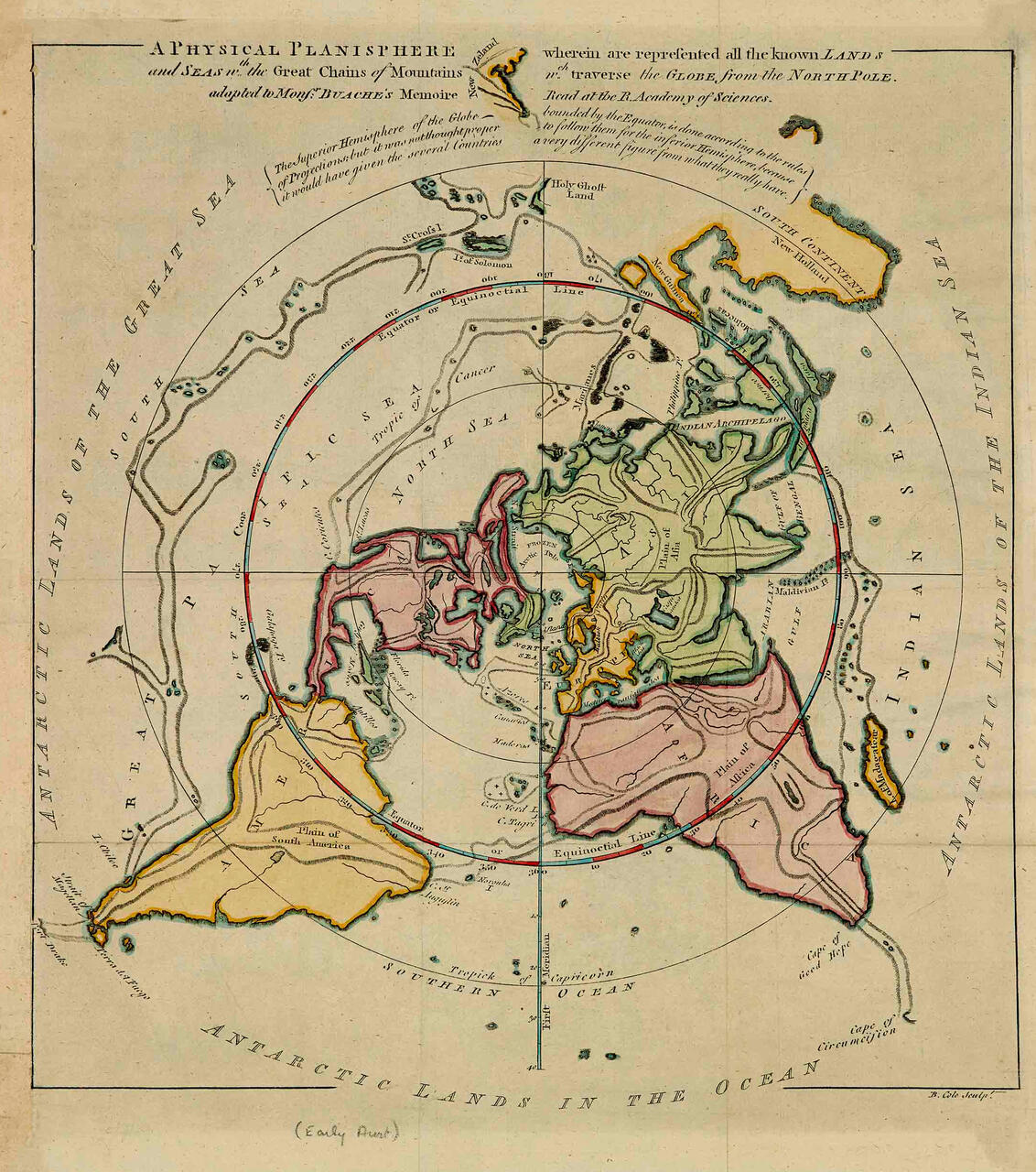 Matt Poll, Manager of Indigenous Programs, shares how a Dhungala biganga (possum skin cloak) can provide a detailed understanding of the Moorundie (Murray) River and the surrounding landscape. Dr Claire Brennan, History Lecturer, James Cook University, Queensland, reflects on how early Europeans depicted Australia in a theoretical geography that was full of contradictions.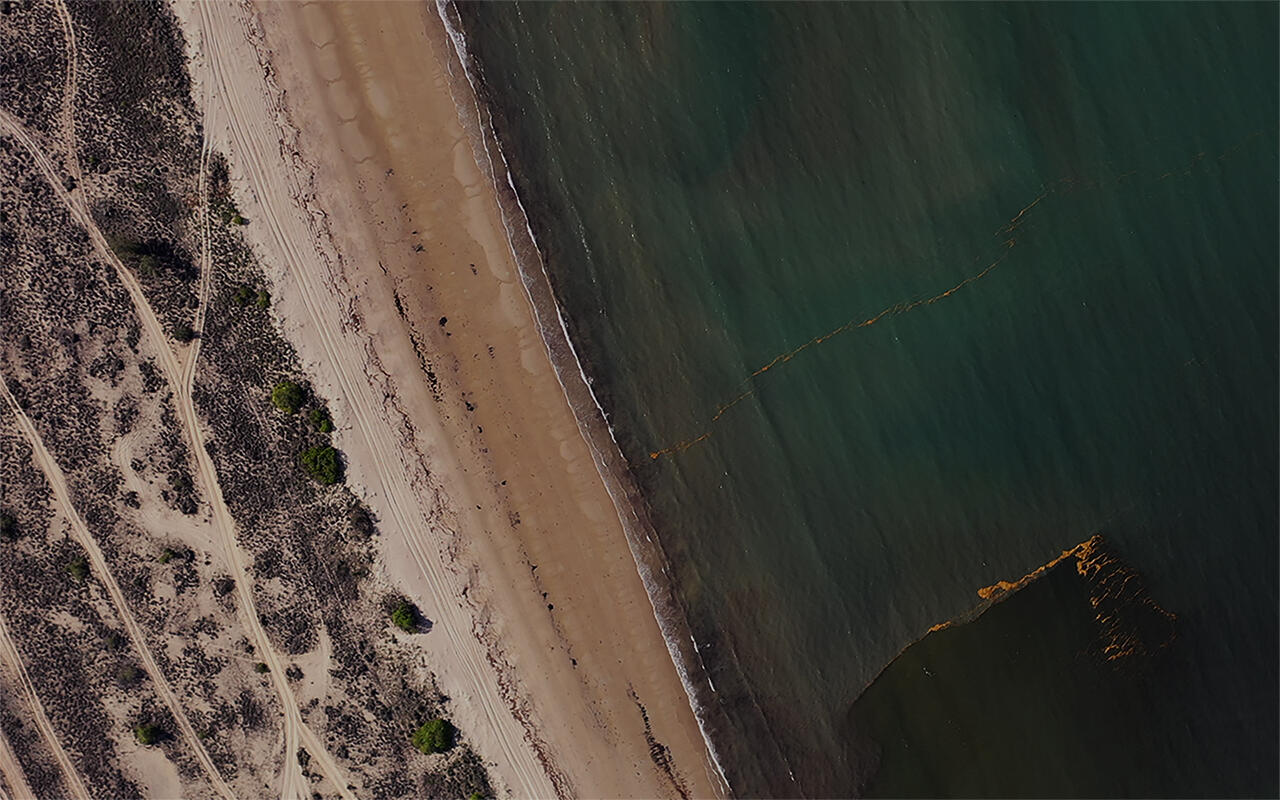 Water
Collection objects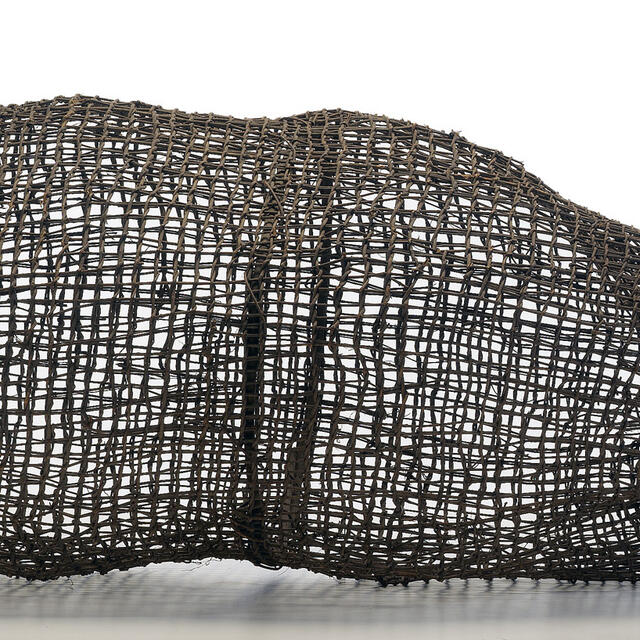 Mandjabu - Barramundi Fish Trap by Anchor Galunba.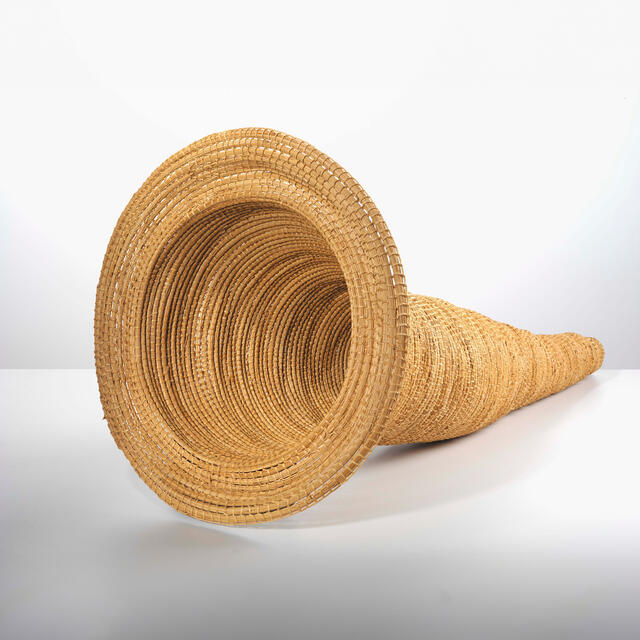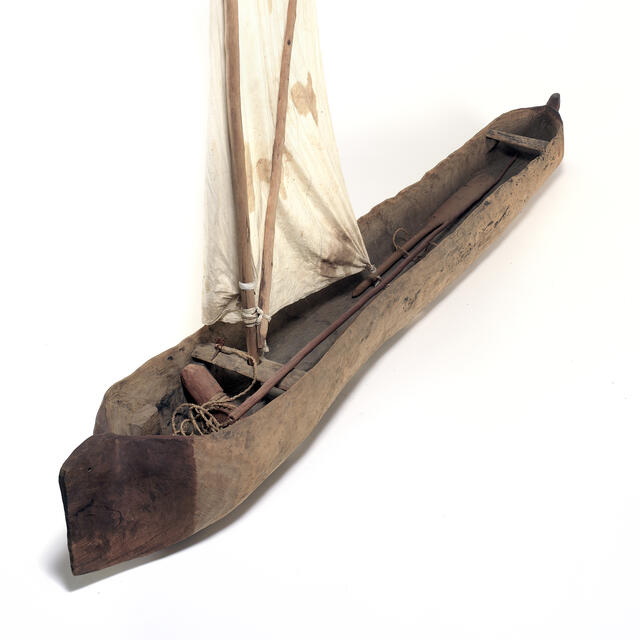 The land is key to the formation, shape, and ecology of the Australian continent. The land works with and against water to shift river systems and ocean shorelines, meaning boundaries between the water and the land are never fixed, they are ever-changing throughout the years and the seasons. Scientists can study these active processes from many thousands of years ago.
I am shadow of you mob, art comes from the land, the song comes from the waterhole – see that pattern now? See, that is our footprint...we never change, we are the people...we (Yolŋu) are always here.
—Djambawa Marawili AM, Ceremonial leader of the Ma(d)arrpa of Northeast Arnhem Land
Welcome, Welcome everybody. My name is Meringie Fourmile, it means first sunlight, or emerging sunlight.

We welcome you today to listen to the story of Guu-yu. In this story we have a hunter and a wife who were out looking for food. While they were out looking for food, while they were out on their canoe, out on the reef. On the canoes they were hunting for food. When the hunter stood up at the front of his canoe and he saw a shadow in the water he thought it was a fish, when he speared that fish, it turned out to be Guu – Yu the sting ray. Guu – Yu started to flap his wings, harder and harder, more ferociously. The waves started to come non-stop. Eventually the hunter and his wife had to go back to land. When they got back to land, they started to heave rocks and boulders and began to throw them down the hills and out towards the ocean and the reefs in stopping sea level rise.

Hope you enjoy the story of Guu – Yu.
—Meringie Fourmile, Yidinji Dancer
Birriniy: The story of Guu–Yu the Sting Ray
The Yidinji Dancers share their story of when people once walked on the Great Barrier Reef.   
Perspectives on walking where the sea is now
Our modern understanding of the appearance of the Australian land mass is quite different to how the ancestors of the many Aboriginal and Torres Strait Island nations have seen continental Australia in the past.  The Australian coast took the shape we know today around 8,000 years ago. Before then, Aboriginal and Torres Strait Islander peoples lived on land that is now covered by sea.
At one point there would have been dry land stretching out 160 kilometres from the current shoreline. That land would have been owned and lived on by generations of Aboriginal people. Our discovery demonstrates that underwater archaeological material has survived sea-level rise.
—Chelsea Wiseman, Deep History of Sea Country Project
Aside from reading the underwater cultural landscape, there are change markers in the natural environment, like corals, which can grow slowly for thousands of years. Coral core samples can reveal the age of the coral bed and the impacts of river systems flowing into the ocean and sea level rise. Each growth layer of a coral tells a story, similar to the way each ring in an old-growth forest tree reveals changes in its environment.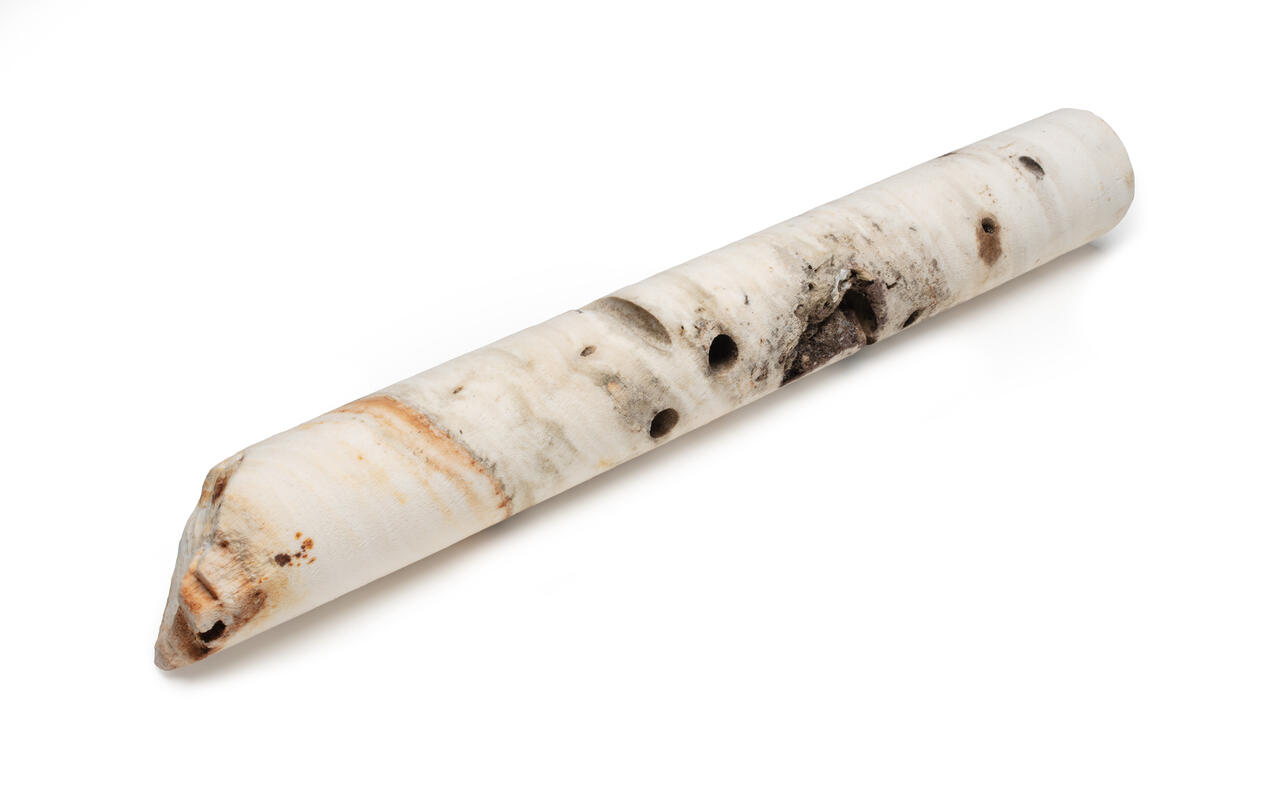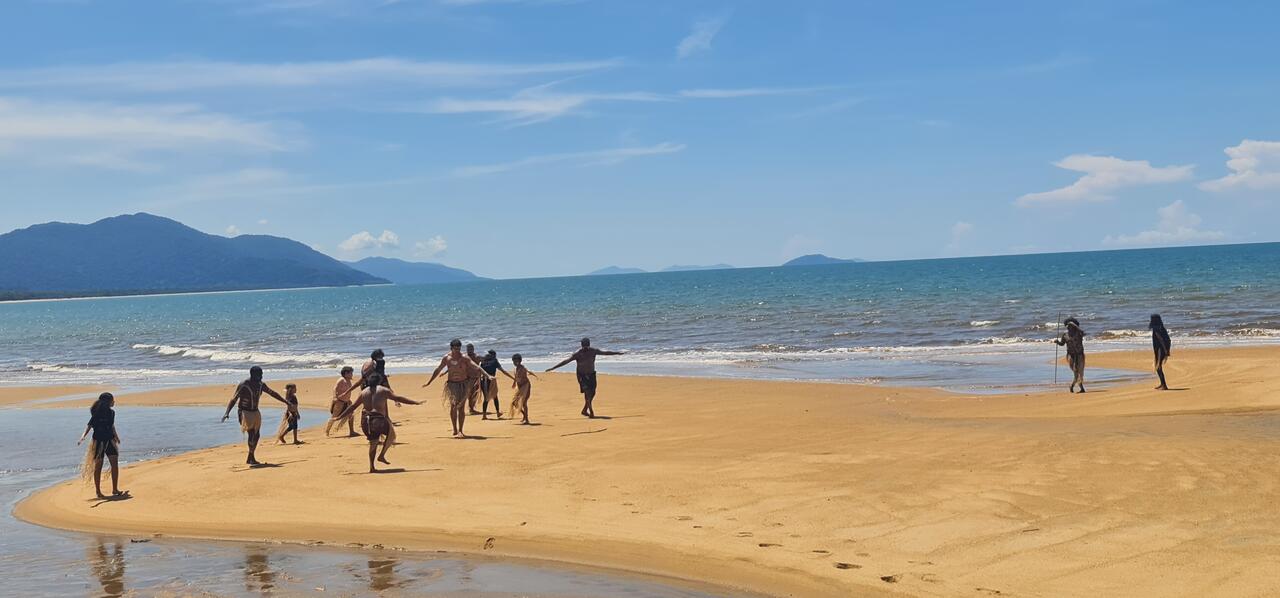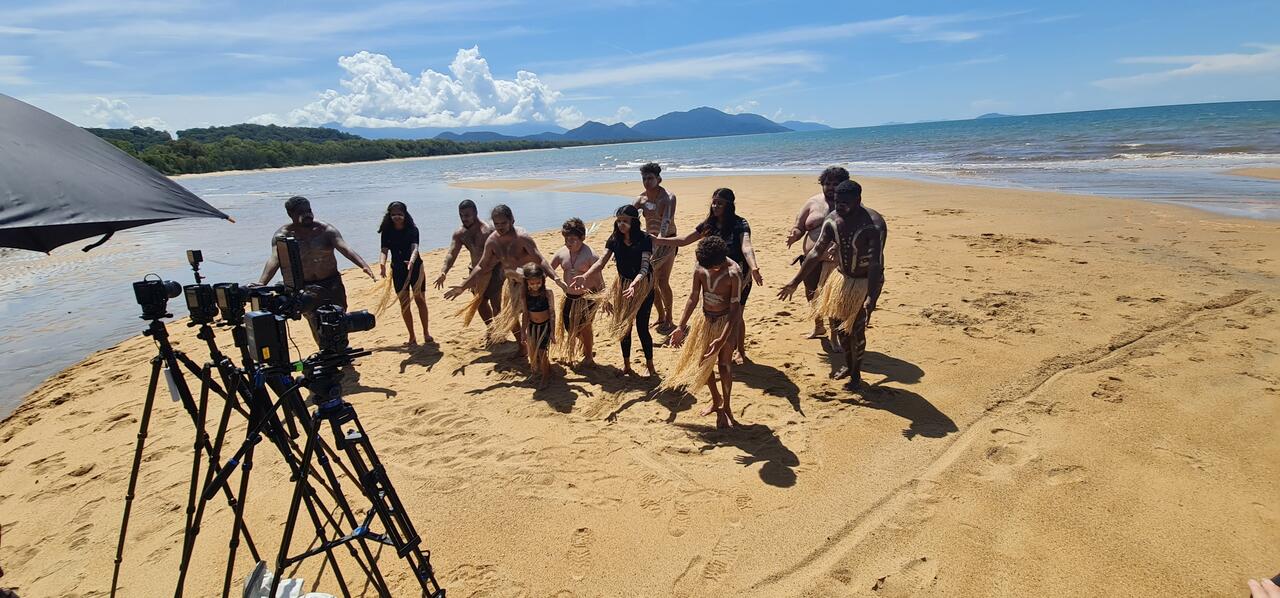 Yidinji Country. Video by Grainger Films.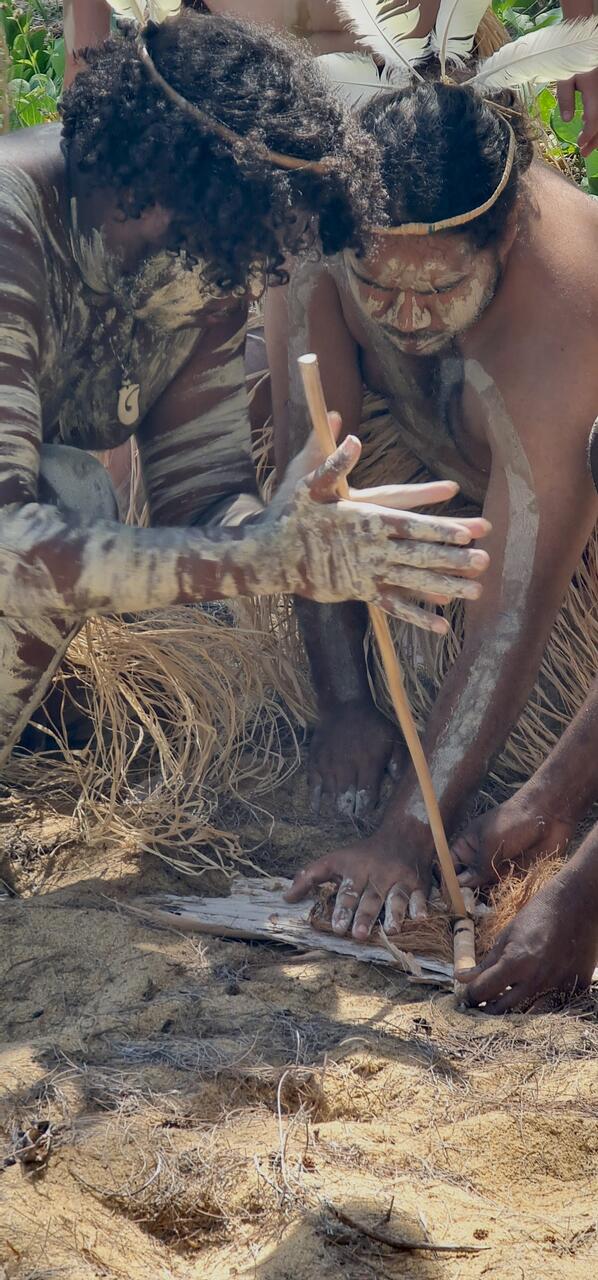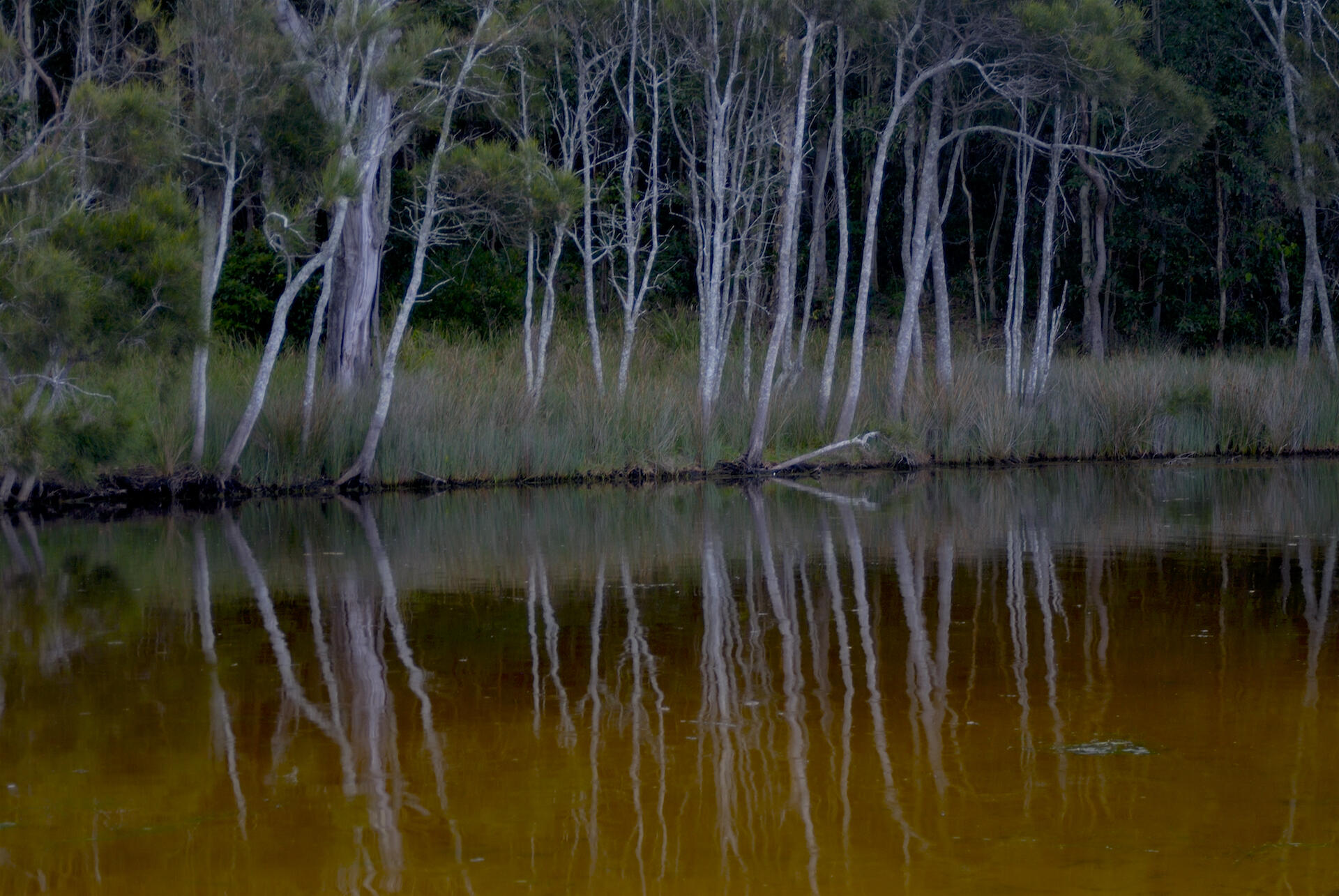 Djurawalinyang by bulladiri gambi

(We rise by dying embers)

djurawalinyang garululli

(we rise allies)

djurawalinyang djilinje

(we rise star guided)

djurawalinyang djugulung marrumalga

(we rise wood bowls in hand)

wagamarre djibirnji

(searching for dew)

djurawalinyang garululli

(we rise allies)

Mannaguwan Gugul

(Red Waratah [and] Bloodwood [tree])
Gugara Kuragia - Kookaburra Calls
Nicole Smede
How are you shaped by sea?
Gugara calls to wake up the sun and herald new beginnings (of the day). This song has inturn awakened my spirit, my connection to ancestry, my muse and my confidence as an artist and songwriter.
—Nicole Smede
Nicole Smede is a multi-disciplinary artist of Worimi and European descent, living and creating on Gumea Dharawal Country. Proud of her heritage, Nicole's work explores a reclamation and reconnection of ancestry and Country, through language, poetry and song. Her voice is featured in award winning film scores and her work has been broadcast on national and international radio. Nicole's poetry has been reimagined as meditations, music, visual and sound pieces and can be found in journals, anthologies and publications. What we Carry and 20x20x12 Sensing Place were both published in 2021. In 2022 Nicole was a recipient of the inaugural Space to Create residency through Australia Council, Yil Lull Studio and ANU and finalist in the Newcastle Poetry Prize.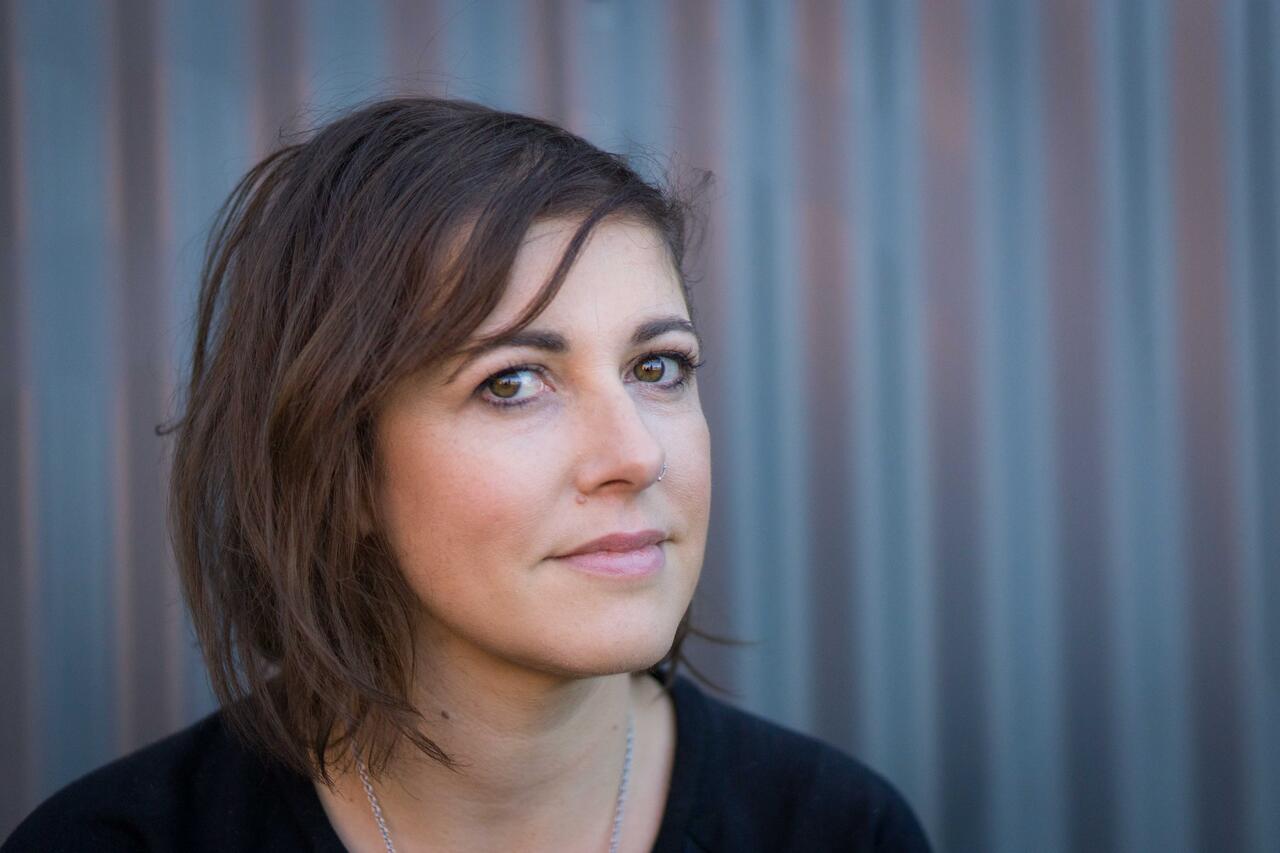 Land
Collection objects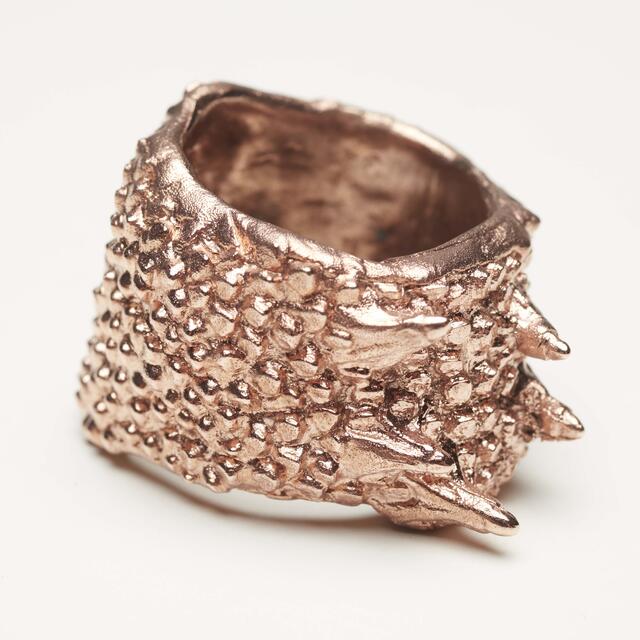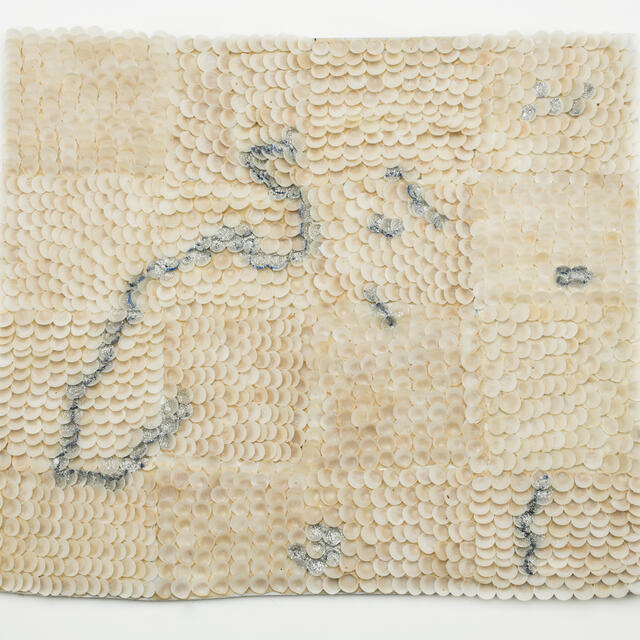 Shellwork map of Australia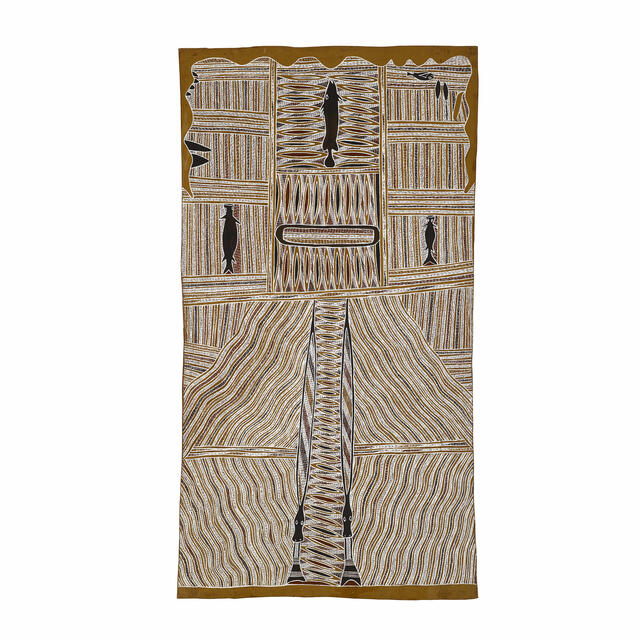 The sky worlds of Aboriginal and Torres Strait Island Australia are a plethora of scientific and geographic knowledge, preserved and passed on inter-generationally through oral history, performance and song. Astronomical knowledge is encoded in the positions of celestial objects – everything on the Australian landscape is reflected in the sky.
Kulba Yadail (stories and knowledge) teaches us to read the stars, the moon and the sea. It describes our environment, our culture and also our identity. The relationship between the stars and the seasons determines when we can cultivate, hunt and harvest the food from the sea and land.  
—Kulba Yadail (Old Lyrics), Billy Missi, 2006
Alick Tipoti
Marine Dust and Dhangal (Dugong)
The hunter would carve the back of a wooden dugong charm hollow as if it was a canoe. He would then place ancestral bones and sea grass obtained from the mouth of a previously killed dugong. When the light of the moon shines on the charm, the hunter waiting with his wap (harpoon) whispers a sacred chant that leads the dugong to the nath (hunter's platform).
 —Alick Tipoti, Badu Island, Zenadth Kes (Torres Strait Islands), 2016
Alick Tipoti's bronze sculpture, Kisay Dhangal shows the life cycle and feeding patterns of the dhangal (dugong) in the Torres Strait Islands. The dhangal is captured in the position known as San Tidayk in Kala Lagaw Ya language—marking the moment the mammal flips its tail to dive down and graze on the sea grass beds. A marine dust trail between the tail and the moon emphasises how lunar cycles determine dugong feeding and mating habits.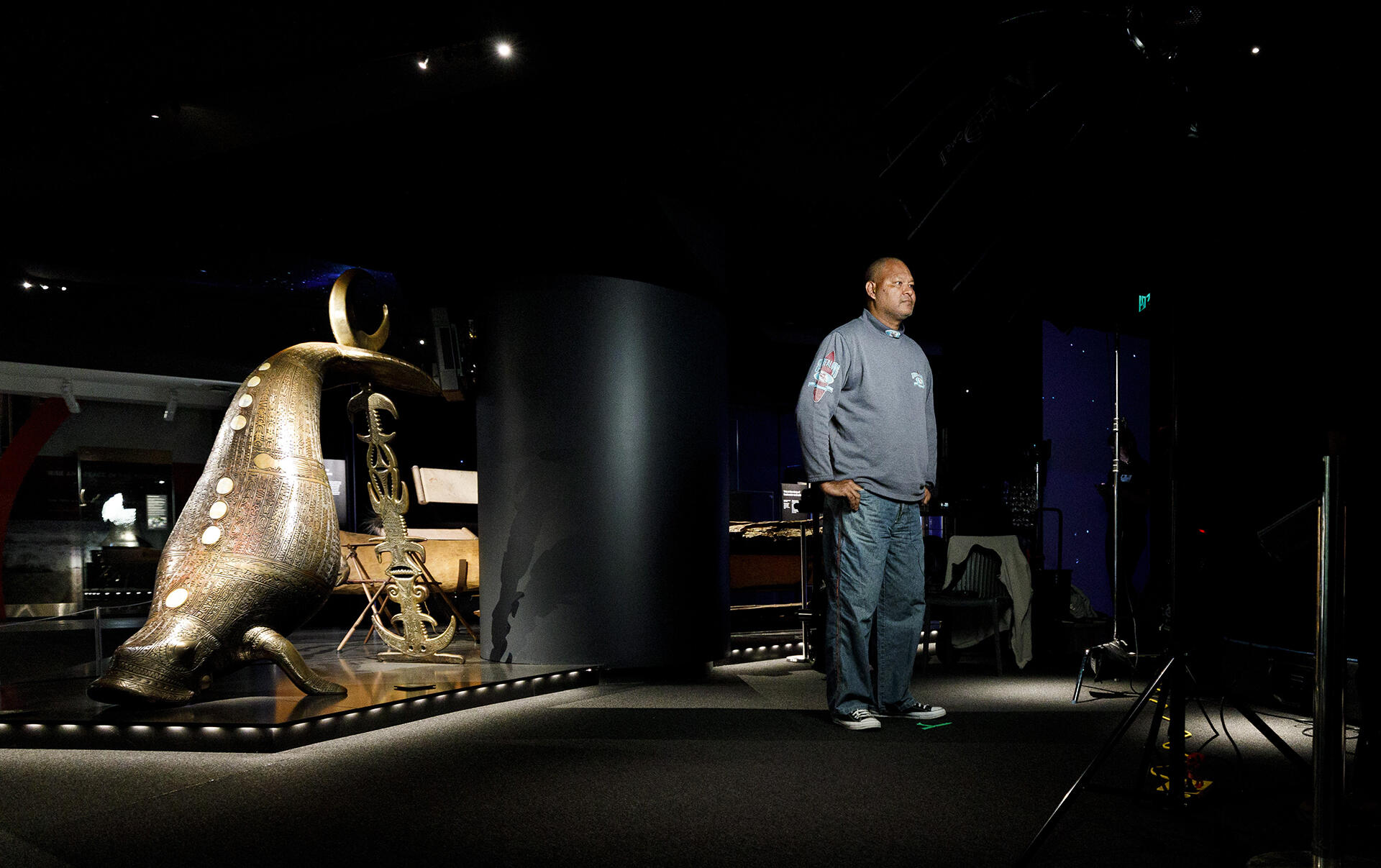 Perspectives on reading the Sky
Guided by Ancestral Memories 
Ilma is a Bardi term that refers to open ceremonies performed by the Bardi people and the objects that are used in their ceremonies. The dance performance and associated songs pass on intergenerational knowledge. Ilma can record stories, directions, information about tides and navigation. They can be like story maps of the sea.
These Ilma were designed by Roy Wiggan and made by one of his sons at One Arm Point, Western Australia in 1993. They tell the story of when Roy Wiggan's father was swept out to sea in a storm and how he observed the birds, tides, stars, winds and the sea itself to safely navigate home.
It's through following the paths of seabirds that Roy's father was able to know the directions of where to head, to head back towards land, for example, and after Roy's father's passing, those memories came back to Roy in dreams and in moments where he was concentrating on preserving the cultural knowledges that his father had towards him and those cultural knowledges which saved his father's life.
—Matt Poll, Indigenous Programs Manager
Guided by Tiny Satellites in Space 
Satellites have dramatically changed how we travel, navigate and get directions in the 21st century. They act like the stars in constellations—so we know where they are supposed to be at any given time. Their data can provide information about the Earth, the Sun, and other planets, monitor weather on Earth, weather in space, and beam communication signals like TV, phone calls and internet signals down to the ground.
Satellites are in space and in the sky. From the sky, we can study the land and the sea. We can see how they link together, the land, the sea, the sky. We can see the forces shaping the land from the sea and therefore see how Australia is shaped by the sea.
—Professor Iver Cairns, University of Sydney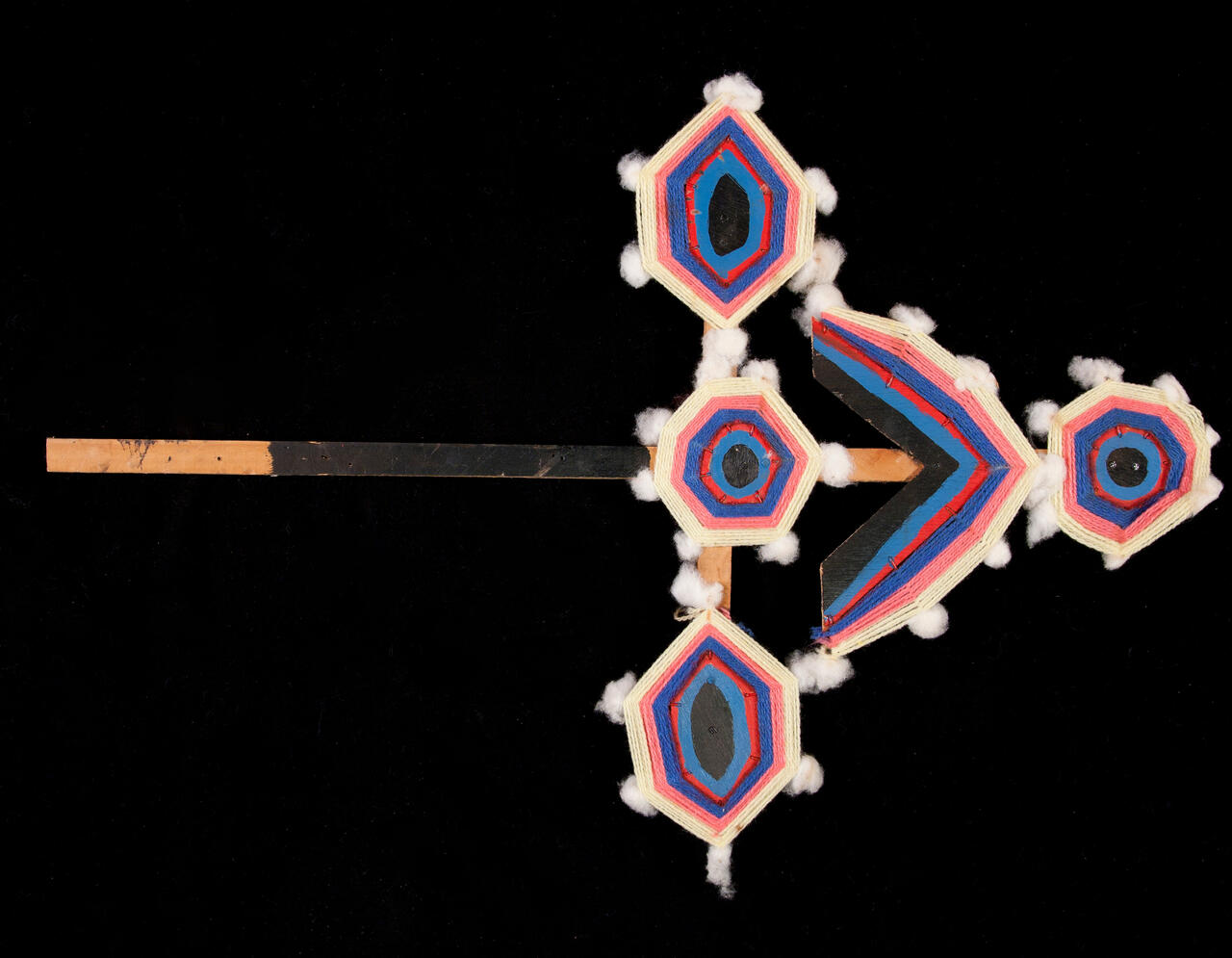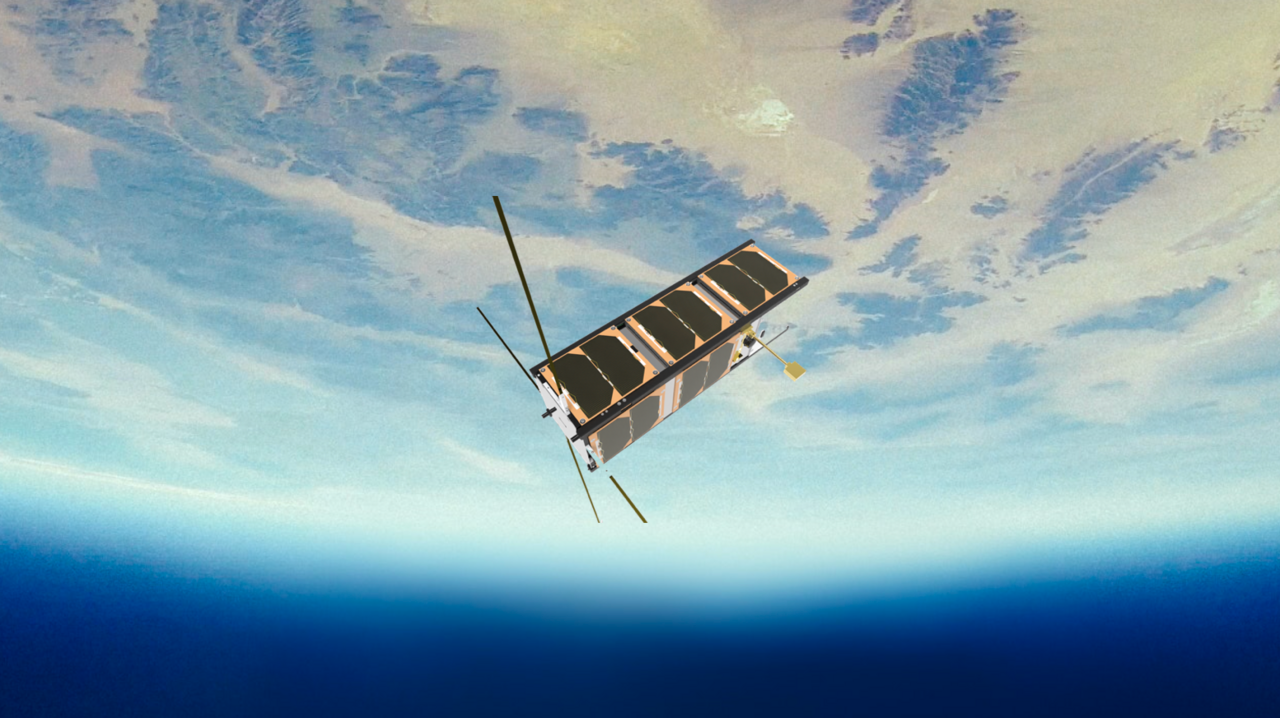 Matt Poll, Indigenous Programs Manager, Australian National Maritime Museum, reflects on the function of ceremonial Ilma, and the connection with stars and constellations to the water and land. Professor Iver Cairns, Director of ARC Training Centre for CubeSats, UAVs, and Their Applications (CUAVA) at the University of Sydney describes how satellites are used today—changing how we travel and view the world and our place in it.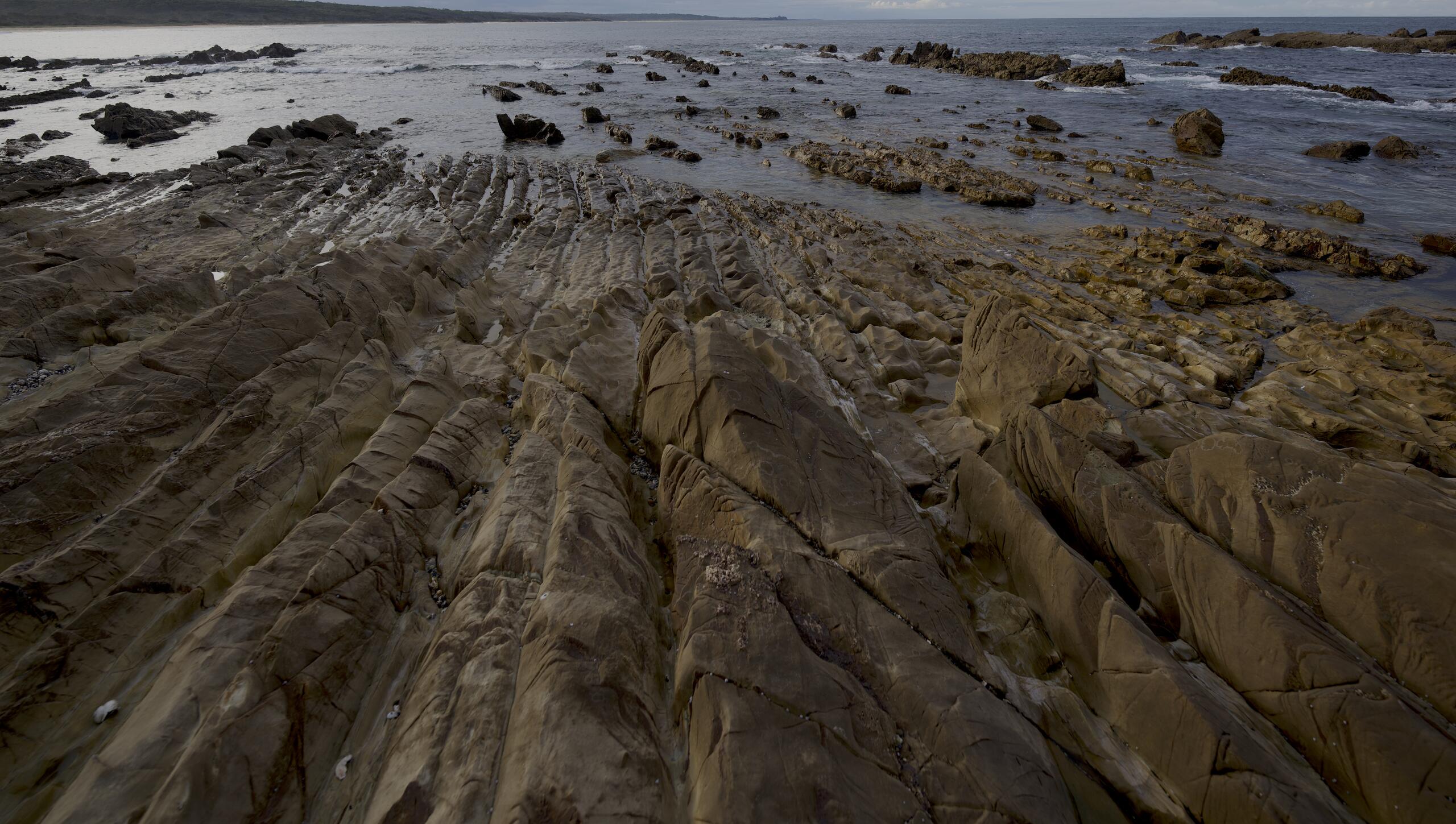 this is the time

of lilly pillies

plumping into (fullness)

Possum Skin Cloaks

on the mend

or perhaps being

worn for the first time

Again

an age of deciduous

home makers

Losing

\lea|ves/

and the last

flowers

f

a

l

l

i

n

g

from myrtle

A moment

of wattle

and whale

Syncing

to mark the start of

m i g r a t i o n

and like the Old Ones

here I am

Healing

releasing

growing

and moving

fruiting a new path

on this Country that is not mine

but who kindly

offers wisdoms

as trees

remind us

how our Scars

can be sacred

and the many ways

to lay down

deep

roots

to nourishment

beneath

even when the <<West Wind>>

*howls* and hauls

islands into o~c~e~a~n.

These wise ones

show how a crowded canopy

offers shade

but limits growth

of those below

knowing that

tall trees are

forged over

Grandfather

Sun Downs

and

seasons

seasons

seasons

seasons

seasons

Seasons
Kirli Saunders
How are you shaped by sea?
We are where we come from, where we're known and remembered and in turn, we are where we know Country. On both Nan and Pop's side of the family we are salt-water people. From Lake Tyers and the entrance in East Gippsland to the glowing sands of Biripi Country, on Yuin lands, where Mum was born, and on Dharawal and Yuin lands, where Pop's family were relocated, I am one with the sea and she is me.

Country is a significant element in all of my work as an artist and writer and for this reason, my poem responds to the connection I have with her. I wrote Sun Downs and Seasons on Dharawal lands, around Wollongong, where I've lived for a decade. I wrote it with respect to the Ancestors, Dharawal people and Dharawal Lands.

Sun Downs and Seasons references the seasons, calendar flowers and whale migration which hold time for us, it also acknowledges a Creation Story, and in turn talks about the timelessness of our ways of being. For me, this work is intended to ground the audience in this connection and to bring them back to land and sea.
—Kirli Saunders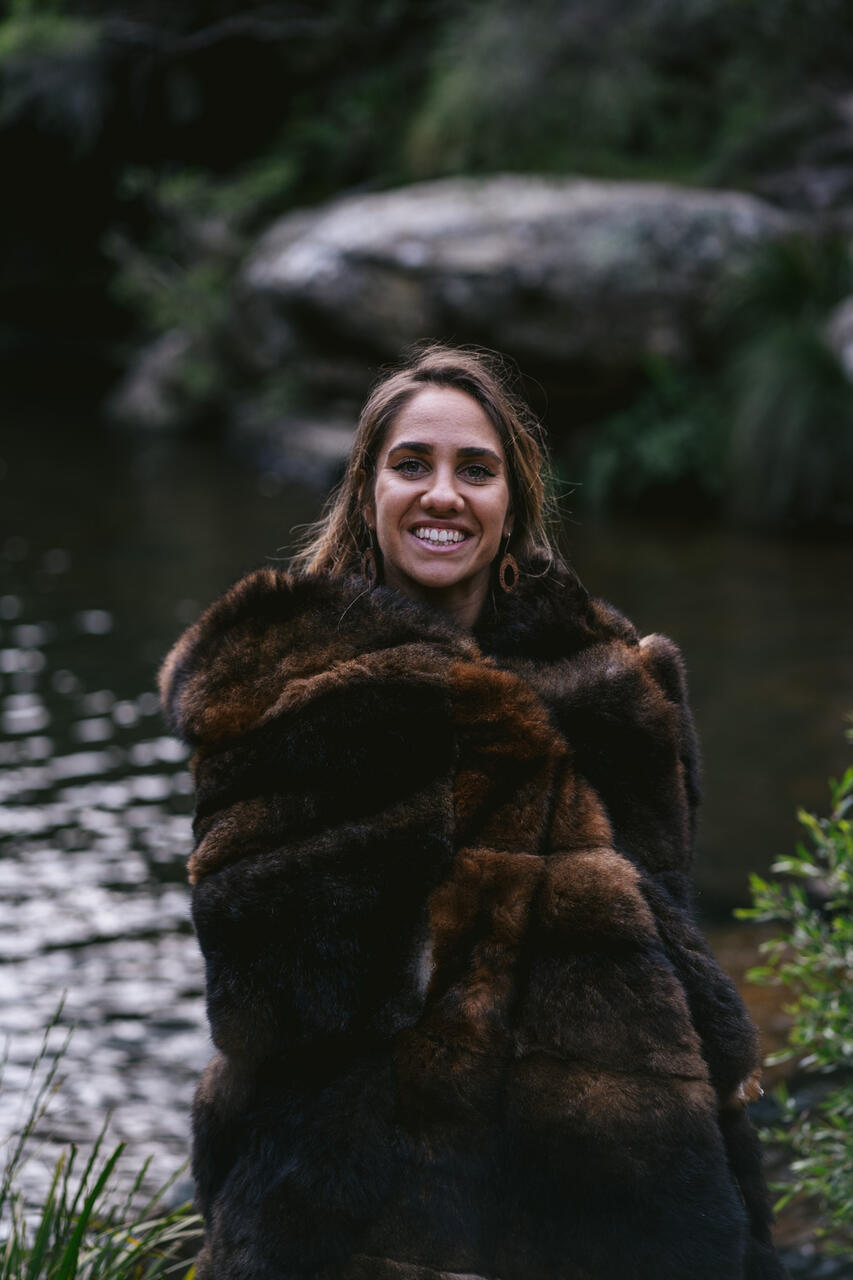 Kirli Saunders OAM is a proud Gunai Woman and award-winning multidisciplinary artist and consultant. An experienced speaker and facilitator, advocating for marginalised communities and care for country, Kirli was the NSW Aboriginal Woman of the Year (2020). In 2022, she was awarded an OAM for the contribution to literature. Her celebrated books include The Incredible Freedom Machines (2018, Scholastic), Kindred (2019, Magabala), Bindi (2020, Magabala) and Our Dreaming (Scholastic 2022).
Kirli's books, The Incredible Freedom Machines (2018), Kindred (2019) and Bindi (2020) and Our Dreaming (2022) have been celebrated by the Prime Minister's, QLD, WA, Adelaide, Victorian Premier's Literary, ABIAs, Kate Challis RAKA, Speech Pathology, ABDA and CBCA awards. Her 2023 forthcoming titles include a visual poetry collection, Returning and a picture book, Afloat. She created Poetry in First Languages, Re[ad]generate and Returning. All were delivered in partnerships and with many First Nations collaborators and industry partners. Kirli was a member of the working group behind the CreateNSW Aboriginal Arts and Culture Protocols and is member of Merrigong's First Nations Advisory Group.
Sky
Collection objects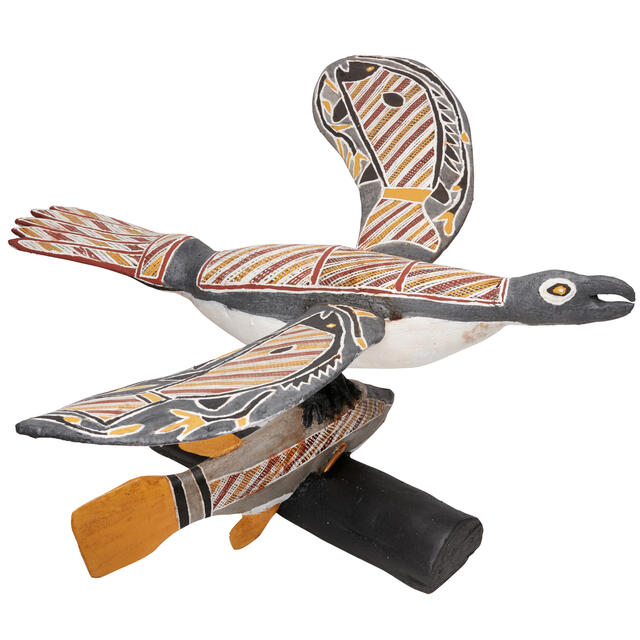 Dhamalay Marrangal Guya Radjuk (Sea Eagle Catching Barramundi)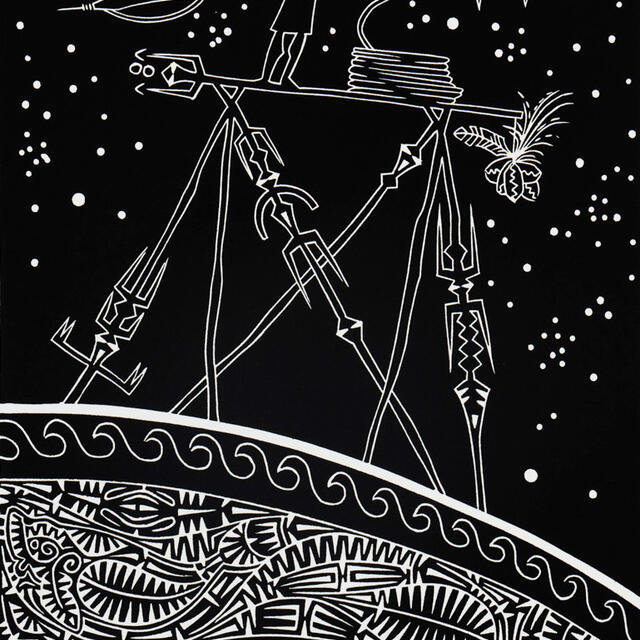 Hunting dhangal (hunting dugong)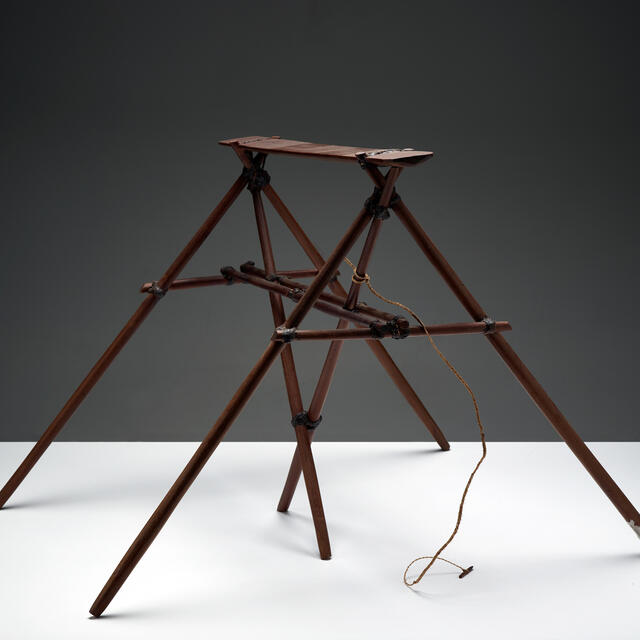 Nath (Dugong hunting platform)
Shaped by the Sea Exhibition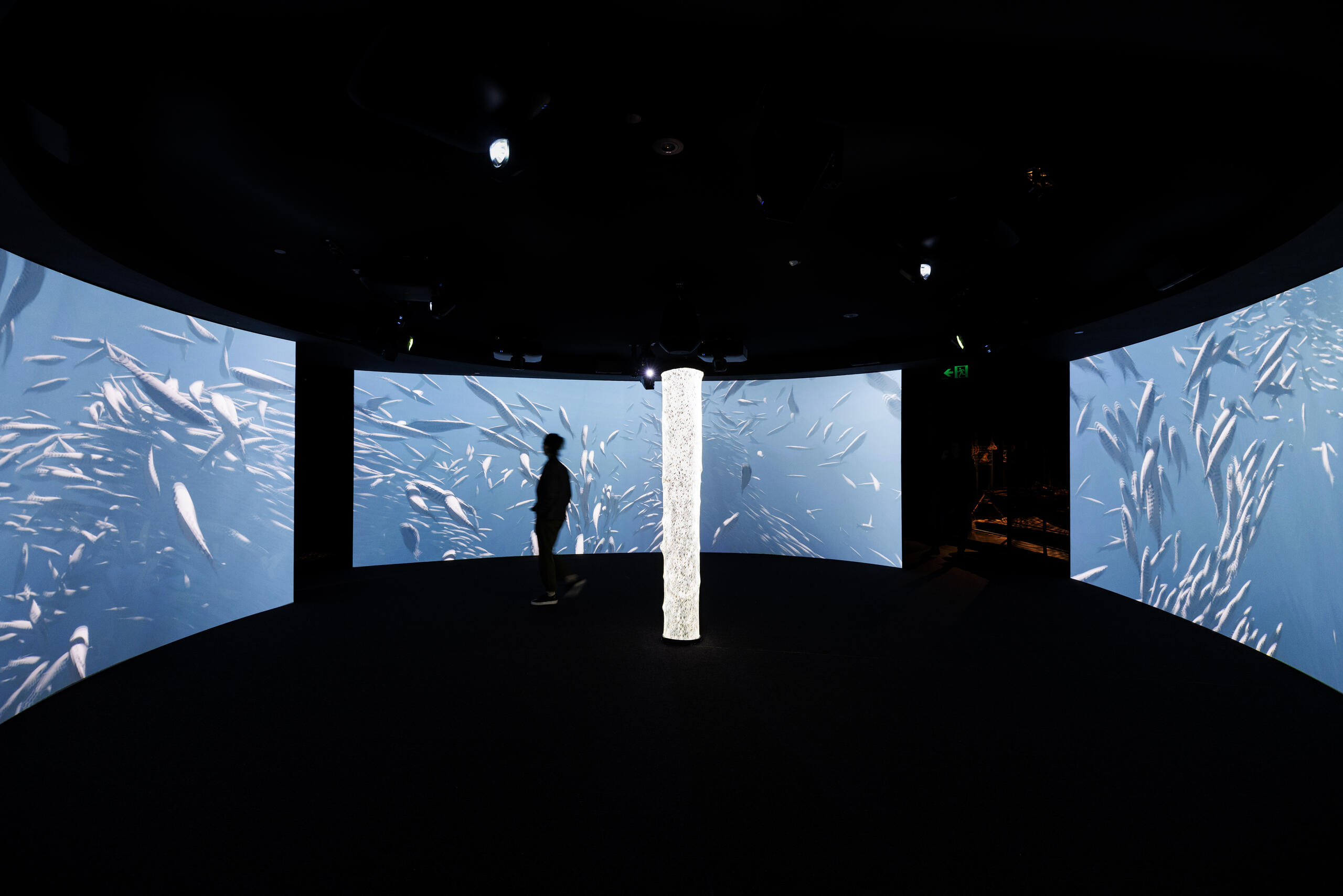 We reveal our continent's deep time history through modern science and archaeology, as well as through sharing Indigenous knowledges.

We invite our visitors to view our continent's past through these dual perspectives, highlighted by some extraordinary objects from the museum's National Maritime Collection.
-Dr Stephen Gapps, co-curator of the exhibition Shaped by the Sea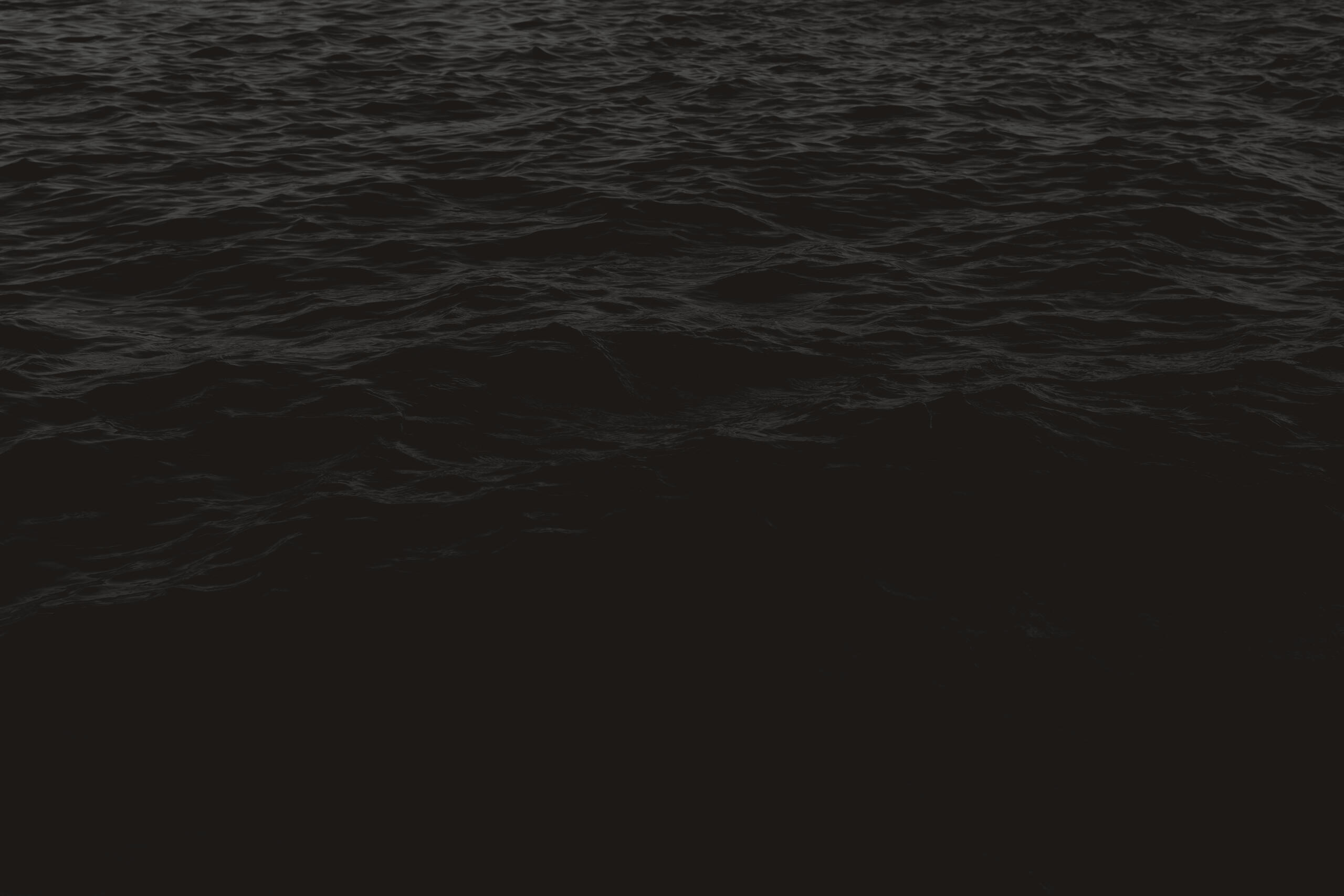 Acknowledgements
We would like to thank the following contributors and supporters to Deep Time and Shaped by the Sea:
First Nations communities, language groups and organisations:
Bardi (WA), Bunurong (VIC), Dhalwangu (Yirrkala, NT), Gupapuyŋu (NT), Kalaw Kawaw Ya (Duaan Island, TSI), Kala Lagaw Ya (Badu Island, TSI), The Mulka Project (Yirrkala, NT), Ngarrindjeri (SA), Ngaanyatjarra (WA), Tharawal Eora (NSW), Torres Strait Island Regional Council, Wiradjuri and Kamilaroi (NSW), Yanyuwa (Booraloola, NT)[JF1] [MP2] , Yidinji (QLD), Yolŋu-Kunwinjku (Maningrida, NT) and Yuin (NSW)
Sharon Mason, Thomas Mayo, Alick Tipoti, The Mulka Project, Djambawa Marawili AM, Meringie Fourmile, Nicole Smede, Kirli Saunders, Tony Birch, The Yidinji Dancers,  Dr Claire Brennan, Professor Iver Cairns, Chelsea Wiseman, Chris Lewis, Infinity Squared, Grainger Films, Vera Hong and Red Room Poetry.
AusSeabed, Australian Antarctic Division, Australian Institute of Marine Science, Geoscience Australia, Macquarie University, University of Tasmania and University of Sydney.
The Sid Faithfull and Christine Sadler Program, Norman Banham and Peter Dexter AM.
Wiradjuri language selection by Tyson Frigo, Curator Indigenous Programs.
CREDITS
Matt Poll: Manager of Indigenous Programs
Tyson Frigo: Curator of Indigenous Programs
Dr Stephen Gapps: Co-Curator of the exhibition Shaped by the Sea
Paula Bray: Head of Digital Engagement and Insight
Snow: Lead Developer
Leonie Jones: Digital Studio Manager
Luke Dearnley: Web Developer
Steve Riethoff: Head of Communications
Renae Mason: Digital Producer
The Indigenous Programs Team can be reached at Indigenous.programs@sea.museum
The Australian National Maritime Museum acknowledges the Gadigal people of the Eora nation as the Traditional Custodians of the bamal (earth) and badu (waters) on which we work.
We also acknowledge all Traditional Custodians of the land and waters throughout Australia and pay our respects to them and their cultures, and to Elders past and present.